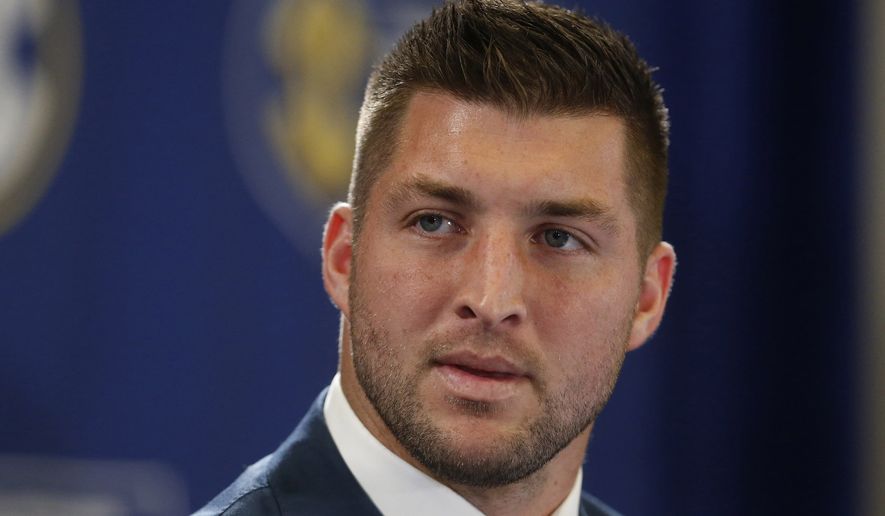 ANALYSIS/OPINION:
Can Tim Tebow play?
Most observers, including yours truly, have concluded that the answer is "no" if the question refers to quarterback in the NFL. Maybe, with a capital MAYBE,Tebow could squeeze onto a roster as a short-yardage specialist. But his prospects as a hybrid H-back, fullback or tight end aren't that great, either.
I wish that wasn't the case, because the league would be more pleasant withTebow dispensing joy and sunshine. Unfortunately, listening to his diehard defenders will have to suffice as an added-value proposition.
Before the Denver Broncos moved up to draft Paxton Lynch in April, more than 10,000 fans signed a petition asking the team to bring Tebow back to Denver. There are still supporters who swear he got a raw deal after leading the Broncos to the playoffs and a wild-card game victory in 2011.
Broncos general manager John Elway opted to take his chances on recovering-from-neck-surgery Peyton Manning instead of single-wing-throwback Tebow, who subsequently failed to stick after one season (eight passes and 32 rushes) with the New York Jets and training-camp stints with the New England Patriots and Philadelphia Eagles. There's no question that Elway made the right move, though Tebow's true believers insist their hero's style would've worked if given the chance.
Despite the dismal numbers in Tebow's 35-game NFL career – a completion rate of 48 percent with 17 touchdowns and nine interceptions – his fans think there's a place for him. The headline on an Internet article last weekend read "Eight NFL quarterbacks worse than Tim Tebow," listing players such as Nick Foles, Geno Smith, Matt Cassel and Brian Hoyer.
Considering the league's never-ending search for players under center, doesTebow have football left in him if a team calls?
"I mean I think for me, I'm in the best shape I've ever been in," Tebowresponded on "The Doug Gottlieb Show" on CBS Sports Radio last week, simultaneously not ruling out a comeback in that hypothetical scenario.
"You know, I'm still young, I still feel really good. So is that something that I feel like I can be an effective quarterback in the NFL? Yeah, I really do feel like I could be. But I think at the same time, there are a lot of other things that I'm doing that I love and that I'm blessed to do.
"Whether that's being part of college football, whether that's – I just wrote another book – whether that's what my foundation is doing in 16 other countries, I'm extremely busy doing a lot of things I love to do and football is just one thing that I love to do. But it can't become your everything because eventually you're not going to be able to play, whether that's today or five years from now. And if it's your everything, then when you're done what do you do?"
Tebow doesn't have to worry about that. He's not well-suited for throwing a football, but he's well-rounded for life after football.
Coaching or politics are possible careers he envisions as he prepares for another season as a broadcaster. He'll celebrate his 29th birthday in a couple of weeks and his latest book – "Shaken: Discovering Your True Identity in the Midst of Life's Storms" – is due to be published in October. He's also an in-demand public speaker, pulling down $50,000-$100,000 per appearance, according to athletespeakers.com.
I think he could find success in just about any venture outside of taking snaps on Sundays.
He could be an inspirational leader as a coach or politician, or continue to provide football insight on TV. Tebow wasn't polarizing as much as the media's obsession sent people to opposite corners. Plenty of players drop to one knee in the end zone or mention their faith during interviews without being lampooned as zealots.
Tebow always came across as a genuinely nice guy, too wholesome for cynics but a welcome alternative for folks who want a little purity in athletes but rarely find it. Winning the Heisman Trophy and a pair of national titles at Florida, coupled with his unorthodox style and devout lifestyle, made him a phenomenon entering the NFL draft. The media lapped up his popularity, ratcheted up the interest and created Tebowmania.
It wasn't Tebow's fault that ESPN executives lost their minds in devoting an inordinate amount of coverage, ultimately dedicating an entire episode of SportsCenter to him. It wasn't his fault that Skip Bayless slobbered all over him and made outrageous statements such as "Tim Tebow is the next Brett Favre."
It's also not Tebow's fault that he can't find open receivers, make basic throws or rid himself of the cult-like following and circus that would accompany him to any training camp. He's simply a limited player who's a great person and his fans love him to death.
He thinks he can still be an NFL quarterback and the Tebowphiles believe him. The problem is everyone else – especially the 32 NFL general managers – hold the opposite opinion
I sense that Tebow has given up trying to convince them otherwise. He's ready to move past the field and let fans argue among themselves about his ability or lack thereof.
Carry on.