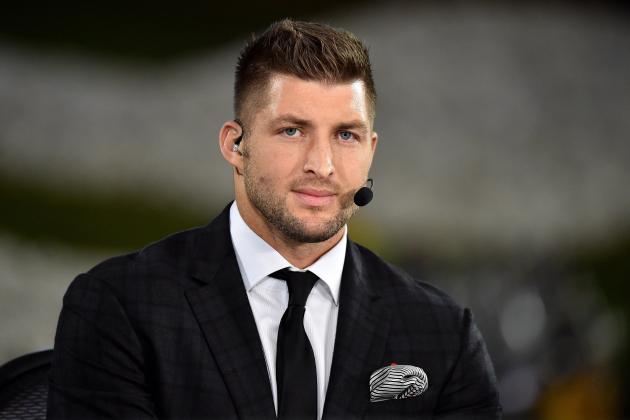 Jasen Vinlove-USA TODAY Sports
Former Heisman Trophy-winning quarterback Tim Tebowcould be taking his charisma and ability to galvanize people into the political sphere.
Per Paul Bedard of the Washington Examiner, Republican strategists are reaching out to Tebow to gauge his interest in the seatFlorida Rep. Ander Crenshaw is vacating when his term ends this year.
The 71-year-old Crenshaw announced Wednesday he would not be seeking re-election this November. Since January 2001, he has represented Florida's 4th Congressional District, where Tebow lives, according to the report.
"We do not pick favorites, [but] obviously, a huge Florida football star would be an interesting candidate for our side of the aisle," said a "key party strategist," per the report.
While Tebow has not directly said he wants to have a career in politics, he did leave the possibility open during a recent interview with Fox and Friends' Ainsley Earhardt (via RedAlertPolitics.com): "If there's a chance you can make a difference someday in something, then that would be intriguing."
As part of the Republican party's interest in Tebow, per Bedard, it is "quietly pulling together a potential campaign team that he could use for the upcoming August 30 primary."
Tebow is a revered figure in the state of Florida. He played high school football in Jacksonville before spending four years at the University of Florida, winning two SEC and BCS Championships, as well as the 2007 Heisman Trophy, and being named a first-team All-American in 2007 and 2008.
The 28-year-old Tebow played three years in the NFL, serving as the Denver Broncos' starting quarterback for 11 games when they won an AFC West title in 2011. He last played for the Philadelphia Eagles during the 2015 preseason.