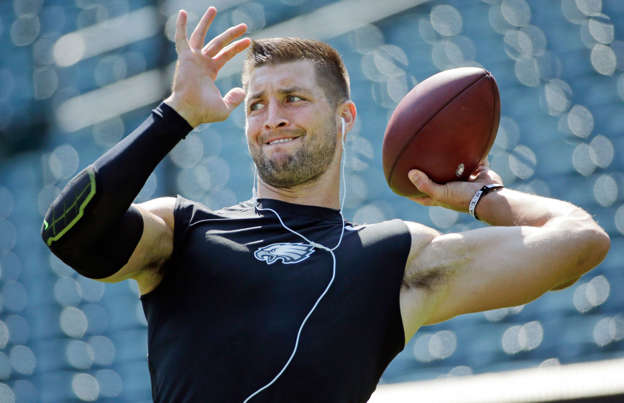 © Michael Perez/AP Photo Philadelphia Eagles' Tim Tebow warms up before a preseason NFL football game against the Indianapolis Colts, Sunday, Aug. 16, 2015, in Philadelphia.Fire up the Tebow signal!

When Chicago Bears QB Jay Cutler and Dallas Cowboys QB Tony Romo went down in Week 2, there could've been any number of normal or otherwise logical reactions. Assessing backups like the Bears' Jimmy Clausen or the Cowboys' Brandon Weeden would be wise, as would a healthy look at the rest of the roster to see how things might hold up without the player at the most important position.

Hey, even a casual look around the league at potential free agent or trade options could yield potential. You know, there's never going to be a patchwork "solution" at quarterback, but crazier things have happened and there's never any harm in looking.

Asking for ESPN analyst and supposed "NFL quarterback" Tim Tebow, though?

It's insanity.

That's exactly what happened.

The Chicago Sun-Times reported that Bears fans had taken to social media to call for Tebow.

Meanwhile, Texas Governor Greg Abbot had done the same for the Dallas Cowboys.

Some of the best football minds in the NFL have kicked the tires on Tebow and have found him wanting even for a roster spot, let alone a short-to-intermediate term starting gig. He had some punctuated success in the league, but has not progressed past that.

Some fans just can't give up the dream.