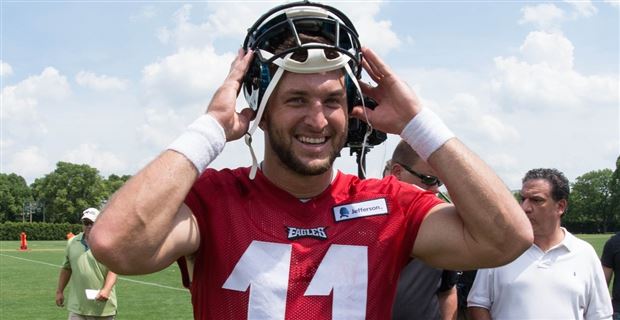 If Tim Tebow earns a spot on the Eagles' roster next fall, it will mean he edged outMatt Barkley as the third-string quarterback behind Sam Bradford and Mark Sanchez.
There's almost no other way Tebow will stick in Philadelphia. Coach Chip Kelly traded for Bradford in March because he clearly believed the former first overall pick was an upgrade over Nick Foles. Assuming he's healthy, Bradford will start the season-opener. Tebow also has almost no shot at unseating Sanchez, who started eight games last year after Foles went down.
So let's compare the two in a few key categories.
Accuracy
Barkley played in three games as a rookie and connected on 30 of 49 passes for a 61.2 percent completion rate. He threw four interceptions without a single touchdown pass, a troubling trend. In his two years with the Broncos, Tebow completed 47.3 percent of his passing attempts. He threw 17 TDs to nine interceptions, a much better ratio (and a bigger sample size) than Barkley. However, accuracy, especially on longer passes, has been an issue for the Heisman Trophy winner since he entered the NFL. The former USC standout can make throws Tebow struggles with.
Advantage: Barkley
Athleticism
This is where Tebow excels. He's fast and strong, with an ability to tuck and run for serious yardage. Over three NFL seasons, he's rushed for 989 yards and 12 touchdowns. With the Broncos he averaged better than five yards per carry. Barkley is a stationary drop-back passer. He ran for -113 yards in four years with the Trojans. It took him around 4.9 seconds to run the 40-yard dash at the 2013 NFL Combine. This one's not close.
Advantage: Tebow
Experience
As Tebow supporters love to point out, he was 8-5 as the Broncos' starter during that magical 2012 campaign. That included an unforgettable upset of the Steelers in the first round of the playoffs. The Florida product has started a total of 16 NFL games. In contrast, Barkley is still looking for his first NFL start. He's made it onto the field for only four games, and threw precisely one pass in 2014. Even though Tebow last played in 2012, he has big-game experience as a pro.
Advantage: Tebow
Upside
The Tebow that signed with the Eagles in March was supposed to be an improved version of the player we previously knew. He had a quicker release, a more polished throwing motion and a better feel under center thanks to his work with QBs coach Tom House. But reports from OTAs indicate he leaves much to be desired as a passer. Barkley is no human JUGS machine either. But he's three years younger and with more game experience could turn into an effective backup.
Advantage: Barkley
Price tag
Neither player is expensive. Barkley, a fourth-round draft pick, will earn $736,757 this year and just under $830,000 in 2016. Tebow inked a one-year, $660,000 contract, the league minimum for a player of his experience. Not only is he cheaper, but none of that money is guaranteed. The club would owe Barkley $248,514 if they cut him this year.
Advantage: Tebow
Verdict: While it's fairly even, I give Tebow the edge because he has a broader range of skills. We're talking about a third-string quarterback, a player who will be inactive for much of the season unless one of the two players in from of him is injured. Tebow's ability as a runner outweighs Barkley's capabilities as a passer. Bradford and Sanchez are both traditional quarterbacks, so why not fill out the depth with a dual-threat guy?
Kelly could work in the two-time national champion on short-yardage downs, especially around the end zone. That alone could secure him a spot on the 53-man roster.