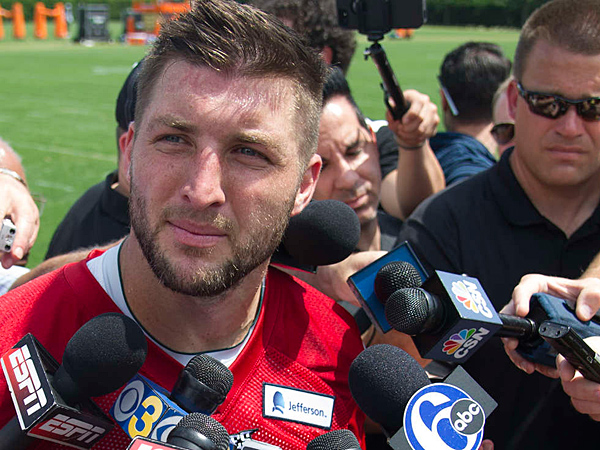 Tim Tebow is at the center of most circles of reporters. (Clem Murray/Staff Photographer)
The prospective third-string quarterback of the Eagles stopped in the center of a NovaCare Complex practice field Thursday to shake owner Jeffrey Lurie's hand and chat a while, and then Tim Tebow turned to his right to face a familiar sight in a familiar setting. There, 105 reporters and writers clustered together in a tight, sweat-stinking group under an oppressive midafternoon sun. It was 90 degrees, the air like moist gauze, and from the weather to the horde of media awaiting Tebow, this could have been Gainesville, Fla., in 2008 or Cortland, N.Y., in 2012.
This was the sort of scene that Tim Tebow creates, because Tim Tebow is still a star.
There's an incongruity in labeling him that way, and even Tebow himself might acknowledge it. He is not a star in the way that, for example, Aaron Rodgers or Tom Brady is. His stardom is not rooted in his achievements or accomplishments in the NFL. How could it be?
He has been, statistically speaking, a poor professional quarterback – so bad that he did not play in 2013 or 2014 because no team believed he warranted a place on its regular-season roster. After working with biomechanics expert Tom House for 18 months, Tebow showed off a throwing motion last week during the Eagles' organized team activities that still appeared as deliberate and robotic as a driver's-ed student making a three-point turn. If the competition to determine who backs up Sam Bradford and Mark Sanchez comes down to the most fundamental element of the position, Matt Barkley need not worry.
There will be more to it than that single factor, of course, because Chip Kelly looks for things only he can see, and Kelly cares only whether Tebow can help the Eagles win more games in more ways than Barkley can. In this regard, Kelly shares the same tunnel vision that most Eagles fans and followers have. Through that football-only prism, there are more important story lines on which to focus: Bradford's health, Evan Mathis' discontent and its effect on the offensive line's depth, the open safety spot next to Malcolm Jenkins, and so on.
With the possible exception of Bradford and his rehabilitation, though, none of those narratives will command the same attention and interest from the national public as Tebow and his return will. That's the power of his kind of stardom, of his athletic and cultural resonance, and in and around this city – a region that on the whole has both a parochial mind-set and a blue-state sociopolitical sensibility – it's easy to dismiss that power, or to fail to pick up on it at all.
How can Tebow be a star at this point in his career, at age 27 and with his probable role on the Eagles being little more than a short-yardage and two-point-conversion specialist? Here's how: He was a genuinely great college football player – a Heisman Trophy winner, a two-time national champion – and the rise of college football into the country's second-most-popular sport has created a subset of athletes who don't have to thrive in the NFL to be stars. Tebow is one. Johnny Manziel is one. Jameis Winston is one. They were already celebrities by the time they turned pro, and thanks to the perpetual news cycle powered by TV networks and social media, their fame never has to fade.
But Tebow presents other, more profound attractions: the metaphysical connection (in his mind and soul, and in other people's) between his Christian faith and his successes on the field; the ostensible consistency with which he espouses his beliefs and lives his life; the yearning by many who love sports to root for an athlete who, in his or her personal and professional comportment, is actually worthy of adulation and emulation.
When Tebow throws an improbable, game-winning touchdown pass for the Denver Broncos in a playoff game, when he doesn't complain publicly about the New York Jets' cluelessness over how to assimilate him into their offense, when he gets another chance in the NFL two years after his career seemed finished, he gives those who admire him only more reason to reaffirm their connection to him.
"That's an important part of this," Jay Coakley, a sociologist at the University of Colorado at Colorado Springs, said in a 2012 interview that applies just as well to Tebow today. "There are some people who build their brand by creating a certain kind of persona. I don't think Tebow intentionally did that kind of overt persona creation. When he was interviewed – unless he's just one hell of an actor – I never saw anyone [else] who could say the right thing but say it in a way that wasn't bragging, wasn't promoting himself. I started watching him when he first got to the NFL, and he made no mistakes."
He didn't make any on Thursday, either, in his first interaction with the media since joining the Eagles. He was grateful just to push the boulder up the mountain again, never mind that it might roll down the other side.
"I've always loved [football], but I think you appreciate it more now," he said. "I appreciate every opportunity I get every day to come out here, no matter how hot it is, no matter how much you've been running, no matter how the workout was. You embrace it. You embrace the grind even more, and you find joy in it, especially in the hard stuff."
It was something a third-string quarterback would say. It was something a star might say, too, but only a certain kind.
---