By
Andrew Kulp
, Featured Columnist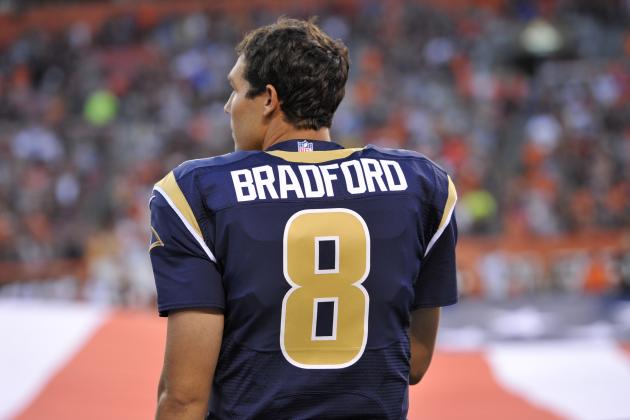 David Richard/Associated Press
The
Philadelphia Eagles
made multiple moves at the quarterback position this offseason, yet somehow managed to create more questions than they answered.
Can Sam Bradford survive the rigors of a full NFL season, let alone be ready to play in time for opening day? Equipped with a new contract, does Mark Sanchez pose a legitimate threat to win the starting job? After spending the past two seasons away from the game, will Tim Tebow earn a spot on the Birds' 53-man roster?
The total lack of clarity at the most important position on the field is easily the biggest concern facing the Eagles in 2015. Then again, while it's not difficult to envision how everything could go wrong, the flip side is few teams boast the overall level and depth of talent under center that Philadelphia has amassed.
Eagles QBs Career Stats

| | | | | | | |
| --- | --- | --- | --- | --- | --- | --- |
|   | DRAFT | CMP% | YDS/GM | TD/INT | RATING | RECORD |
| S. Bradford | R1P1-2010 | 58.6 | 225.8 | 59/38 | 79.3 | 18-30-1 |
| M. Sanchez | R1P15-2009 | 56.3 | 204.4 | 82/80 | 74.1 | 37-33 |
| M. Barkley | R4P98-2013 | 60.0 | 75.0 | 0/4 | 43.7 | 0-0 |
| T. Tebow | R1P25-2010 | 47.9 | 69.2 | 17/9 | 75.3 | 8-6 |
| G. Kinne | UDFA | – | – | – | – | – |
Pro-Football-Reference.com
Bradford, Sanchez and Tebow are all former first-round draft picks, and while they haven't lived up to their pedigrees, all have achieved some measure of success as professionals. There are certainly worse situations around the league.
Which is not to say everything will pan out for the Eagles. However, when we explore the depth chart, there are reasons to like the current crop of signal-callers, perhaps even believe Philadelphia can achieve success with this collection of castoffs.
QB1: Sam Bradford
The doubts about Bradford extend beyond the back-to-back torn ACLs that limited the ex-St. Louis Ram to seven games over the past two years. The numbers and win-loss record don't exactly instill a great deal of confidence, either.
Bradford was 18-30-1 as a starter with a career 79.3 passer rating in five seasons—mediocre by any standard. By comparison, Nick Foles has been far better by almost any meaningful metric, yet that didn't stop the Eagles from swapping the two, even sending compensation in the form of draft picks to sweeten the package.
Bradford vs. Foles Career Comparison

| | | | | | | |
| --- | --- | --- | --- | --- | --- | --- |
|   | GMS | CMP% | YDS/GM | TD/INT | RATING | RECORD |
| S. Bradford | 49 | 58.6 | 225.8 | 59/38 | 79.3 | 18-30-1 |
| N. Foles | 28 | 61.6 | 241.2 | 46/17 | 94.2 | 15-9 |
Pro-Football-Reference.com
Of course, Bradford hasn't had near the quantity or caliber of tools to work with. During his years as a Ram, never did he have a running back, tight end or wide receiver eclipse 700 yards through the air in a season. Never did the club send an offensive lineman to the Pro Bowl. Never did Bradford play in a prolific, uptempo offense like head coach Chip Kelly brought to Philadelphia.
It's only natural to anticipate drastic improvement out of Bradford in a drastically improved situation. The 2010 No. 1 overall selection is only 27. He has a huge arm, quick release and rarely turned the football over in spite of dreadful surrounding talent. There is unrealized potential to tap here.
But the discussion always comes back to Bradford's health. Whether you believe he has the ability or not, he needs to stay upright to have even a chance. The good news is Tim McManus for Philadelphia Magazine reports Bradford is practicing without limitations. Whether he can hold up for a full slate of 16 games plus playoffs remains the question.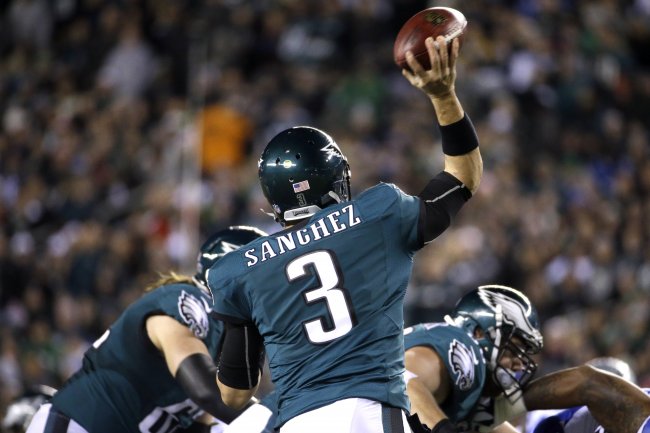 Michael Perez/Associated Press
QB2: Mark Sanchez
Sanchez is a perfect example of the difference a decent supporting cast can make. He was the literal butt of jokes when he arrived in Philadelphia as a free agent from a pitiful New York Jets offense last offseason. In nine games in Kelly's system, Sanchez shattered personal bests for completion percentage (64.1), yards per attempt (7.8) and passer rating (88.4).
Sanchez Eagles vs. Jets Comparison

| | | | | |
| --- | --- | --- | --- | --- |
|   | CMP% | YDS/GM | TD/INT | RATING |
| Eagles | 64.1 | 268.7 | 14/11 | 88.4 |
| Jets | 55.1 | 195.0 | 68/69 | 71.7 |
Pro-Football-Reference.com
Those numbers honestly aren't too shabby, although still not good enough. Sanchez is purely a backup quarterback in the NFL—albeit a very good one probably.
That being said, Sanchez does have a slim path to start on opening day, a possibility reflected by the incentives in the two-year extension he signed with the Eagles in March, according to Spotrac. If Bradford exhibits any signs of rust coming off of knee surgery or is slow to learn the offense, Sanchez may just be the best option to play Week 1.
It's a stretch, to say the least. Bradford will be 13 months removed from surgery by then, and between playing in the spread offense at Oklahoma and under offensive coordinator Pat Shurmur in St. Louis, concepts of Philadelphia's system should be familiar.
Sanchez is a nice fallback option, but we'll hopefully get to see what Bradford brings to the table.
QB3: Matt Barkley
Forgetting somebody? Let's not go awarding Tebow a roster spot just yet. For my money, he needs to prove he's actually a better option than Barkley.
Michael Perez/Associated Press
Some observers might suggest that shouldn't be too difficult. Barkley has attempted just 49 passes in regular-season contests, yet he has thrown four interceptions to zero touchdowns. Others believe the fact that Kelly chose not to start Barkley over Sanchez in a meaningless Week 17 affair last season was telling.
What should be noted is all four of Barkley's picks came in the fourth quarter, all in games he entered when his team was already trailing. And Barkley actually appeared to show some improvement in preseason appearances in 2014, though it admittedly may have been hard to tell playing exclusively with third-stringers and camp bodies.
Barkley is more of an unknown that's been buried on depth charts by the likes of known entities such as Michael Vick, Foles and Sanchez in two NFL seasons than he is a disappointment. A fourth-round pick, there never should've been any expectations beyond developing into a competent No. 2 to begin with.
Whether Barkley is or can still become that is a total mystery. Yet he does hold several advantages over Tebow, such as having an additional year on his contract.
QB4: Tim Tebow
That, and Barkley at least throws the pigskin without an elongated motion that prevents any semblance of consistent accuracy. Tebow's career 47.9 completion percentage is the single biggest indicator as to why he hasn't been on an NFL roster the past two seasons. Set to turn 28 in August, now is a little late to expect any significant change.
Barry Gutierrez/Associated Press
True, Tebow was said to have fixed his delivery with the help of quarterback guru Tom House, as reported by Albert Breer for NFL.com back in March. Obviously, the Eagles saw enough to give him this tryout.
It's just really hard to believe Tebow, despite possessing tremendous size and mobility, is suddenly going to become a capable passer.
Yes, legions of fans will point to an 8-6 record as a starting quarterback, plus a playoff win. That being said, T.J. Yates also won a playoff game with the Houston Texans in 2011, and you don't hear anybody clamoring for him to get another chance. Trent Dilfer won a Super Bowl with the Baltimore Ravens in 2000, something Miami Dolphins legend Dan Marino never did—who's the superior player?
Clearly, wins and losses aren't always the best metric for a quarterback.
Barring massive, unforeseen leaps as a passer, Tebow likely isn't a superior signal-caller to Barkley. Then again, Tebow could still earn that roster spot if he demonstrates value in other areas, such as goal-line packages and special teams. If Kelly deems that more valuable than a traditional emergency quarterback, the job is certainly up for grabs.
QB5: G.J. Kinne
While Kinne is still listed as a quarterback on the official team website, Reuben Frank for CSNPhilly.com reports he will no longer play the position, instead trying to make the club as a jack of all trades. There's really no need for five, and Kinne had essentially zero shot of making the roster to begin with.