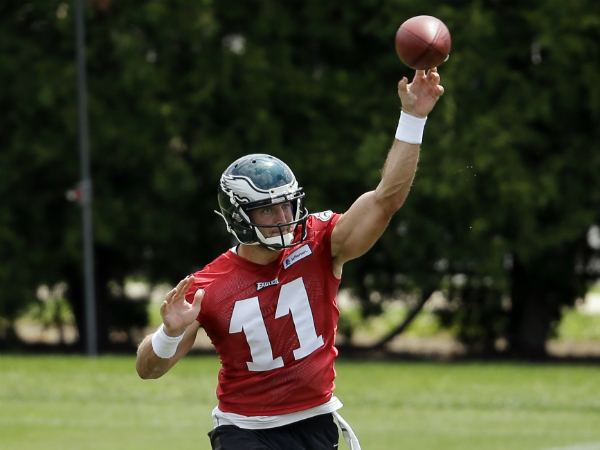 Tim Tebow throws the football during an Eagles workout. (Associated Press)
POSTED: Friday, June 19, 2015, 3:01 AM
 TIM TEBOW is in Eagles camp this spring because he believes he is a changed quarterback, and because Chip Kelly says that he believes that too. "I think mechanically he's improved, but I think he did a lot on his own," the Eagles coach said earlier this week.
Tebow has worked hard on his flawed mechanics, but he hardly did it alone. One day he was running through drills alongside Drew Brees or Tom Brady, another he was working alongside Phillies pitcher Cole Hamels. Always he was under the tutelage of former pitcher Tom House, whose well-known biomechanics improvement program has been embraced not only by elite Major League pitchers, but more recently by a slew of elite NFL quarterbacks like Brees, Brady, Joe Flacco and Alex Smith.
All have utilized House's extensive throwing program, which evaluates not just mechanics, but strength, nutrition, sleep and recovery, even psychological profiles. "And then we tie the whole thing together to an emotional profile that we call the star profile," said House. "To figure out how they handle stress and anxiety in competition. And those four legs, those major evaluations, become the basis for our teach.
"It's like one set of rules, and a million different interpretations."
For example: Pitchers generate force through their motion, curl and stride off the slope of the mound, generating six times their body weight. Ideally, said House, it takes 1.25 seconds. A quarterback uses his drop to generate force, and must release the ball in one-third of that time, said House, "Or they get crushed by the defense."
So, Tebow said, he would be with Hamels for some drills, then off on his own or with other quarterbacks for others.
"He's really focused when he's out there," Tebow said of Hamels. "You would never know, hey this is a big-time guy. You just see a guy who goes in there and works real hard and tries to improve. He's someone who has had great success. Yet he hasn't lost his work ethic or what got him there."
That last part is what initially impressed House about Tebow. When he began training in earnest two years ago, he didn't have an NFL job, or the prospect of one. Yet his work ethic compelled House to compare him to his most prized pupil, Nolan Ryan.
"When he showed up here, he was 10,000 reps behind any other NFL quarterback," House told FoxSports.com in April. "He'd never been given a tool kit on how to fix [his mechanics] . . .
"We know for a fact that he had premature rotation issues on the front side, and his back foot came off the ground too soon."
His diet also lacked balance, House said then. And the timing of his delivery was off.
Respecting Tebow's wishes, House did not want to discuss specifics of Tebow's progress, except to say that, while elite quarterbacks can improve by a percent or two through his methodology, he believed Tebow could see an improvement of 25 percent if his current arc of progress continues.
Asked last week to name the biggest difference in him since delving into House's program, Tebow said, "The ability to anticipate. The ability to throw the shorter-to-intermediate routes more accurately. Get it out quicker with your feet.
"I feel a lot more comfortable. A lot more comfortable."
Mechanically perhaps. But that comfort has not translated into anything discernible during OTAs or minicamp. For example: During 7-on-7 drills earlier this week, Tebow several times held the ball too long, once even heaving a pass to a receiver already standing at the back of the end zone. It's impossible to know with any degree of certainty, but Kelly's animated body language after a couple of those sequences seemed to be aimed at getting him to process quicker and get the ball out quicker.
It's another recurring critique of Tebow: That, as one veteran defensive coach was quoted saying recently, "He's not wired to process what he's seeing once the ball is snapped."
With a doctorate in psychology, House believes that too can be exorcized through repetition.
"Whether it's a highly touted guy or somebody nobody even knows about, once you go through all the pre-testing and assessing and we identify all the inefficiencies, it takes about a thousand reps to overcome a bad habit," House said. "It takes about 10,000 reps to make it autonomic to where they don't even have to think about it. And then – do the math – if there's four or five things that they're working on, it takes 40 to 50,000 reps before they can be considered an elite master of their craft.
"There are windows of trainability. There's a neurological window, there's a muscle window, there's a skill acquisition window, and there's a skill retention window. And we identify the results to determine which window needs the most work."
There is little doubt Tebow could still use some work, or that he will never reach the elite level of Brees or Brady. The intrigue remains though in those feet of his, and in that head of his, and in whether House's methodology can retrain him enough to reward a coach who has already made a habit of rethinking the NFL.
"I have seen an improvement from Tim since the day we got him in terms of his knowledge of what we're doing, understanding where everybody is," Kelly said this week. "I think each week you've seen an incremental bump in him. So I'm excited to see where that takes him, and it'll be a good competition as we get into August."
---
On Twitter: @samdonnellon
philly.com/SamDonnellon
Read more at http://www.philly.com/philly/sports/eagles/20150619_Eagles__Tim_Tebow_making_House_calls.html#SAg5SIY6tQqZOLxC.99