By John Breech | CBSSports.com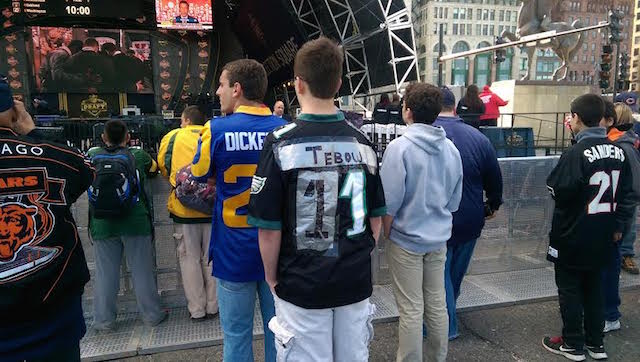 CHICAGO — The Eagles didn't land Marcus Mariota on Thursday, so Philadelphia fans won't be able to buy his jersey, but don't fret Eagles fans because if you have a spare jersey and some duct tape at home, you can make something better: A TIM TEBOW JERSEY.
That's exactly what this guy did — and even better, he attended the NFL Draft festival in Chicago to show off his new jersey.
Te-bow! Te-bow! Te-bow! #NFLDraft https://t.co/LM7GXD1oBO pic.twitter.com/dytzF2M8ir

— NFLonCBS (@NFLonCBS) April 30, 2015
Apparently, using an old Jordan Matthews jersey is the secret to making a good duct taped Tim Tebow jersey.
@_Philly_Talk Jordan Matthews. Got it from AliExpress and it fell apart on me. Makes for a good duct tape jersey!

— Eaglea (@IgglesCoverage) April 29, 2015
If duct taped jerseys aren't your thing, here's what an actual Tebow jersey looks like, but I wouldn't recommend buying one because Tebow probably won't be on the team past August.
Buzzy Says : You Could left out your last statement John.