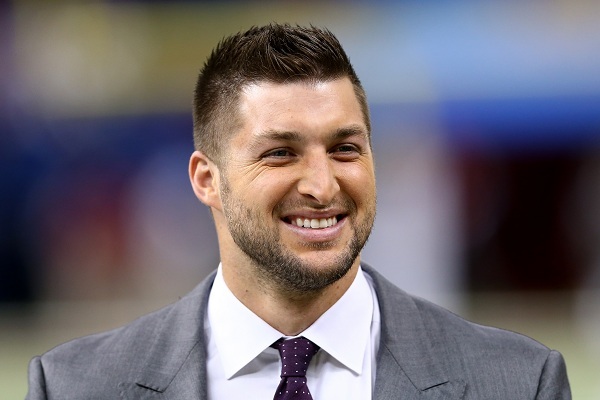 It's probably safe to say that all reporters hope Tim Tebow makes the Eagles' roster this offseason. Streeter Lecka/Getty Images
By Glenn McGraw
One of the hottest NFL topics this offseason has been the Philadelphia Eagles signing Tim Tebow to a one-year deal. A backup quarterback shun from the league who hasn't played in years. That's the type of transcending personality Tebow is. Where he goes, everyone wants to know.
The contract essentially got Tebow a tryout with the Philadelphia Eagles. There is no guarantee. Outside of a weekly take of $1,800 and $195 for offseason workouts, Tebow has to make the 53-man roster in order to get the $660,000 he signed on the line for.
But will Chip Kelly keep the polarizing figure?
The Eagles roster is loaded with quarterbacks, but Tebow has a handful of things going in his favor. The franchise did not draft a rookie, former quarterback G.J. Kinnie has moved positions, the team would love to get rid of Tebow's third-string competition in Matt Barkley, Kelly's system utilizes players with Tebow's skill set, and the Eagles were among the worst teams in the league last year on the goal line.
The roster position is there for the taking, and a couple of Eagles reporters feel that Tebow will seize the opportunity.
Elliott Shorr-Parks believes that Mark Sanchez, Sam Bradford, and Tim Tebow will be the three signal-callers.
Sanchez is very close to a lock, but if he is really bad, the Eagles might decide paying $13 million to a backup isn't worth it. The real interest will be for the third quarterback position. Matt Barkley would seem to have an edge on Tebow, since he knows the offense. Tebow will have to win the job, but if he is close with Barkley, he'll get the edge.
His colleague Mark Eckel also shares the same sentiment.
Tebow beats out Matt Barkley for the No. 3 job.
They aren't the only ones either. Former Eagles lineman turned NFL analyst Brian Baldinger is confident that Tebow will make the cut and have success in Philly.