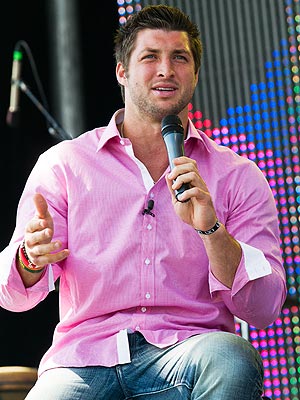 Tim Tebow
J. Dennis Thomas/Corbis
It was the news that Tim Tebow fans have been waiting for.
On Monday, the former NFL quarterback was invited to try out for the Philadelphia Eagles, a development that could signal his long-awaited return to the NFL.
For the past two years, Tebow has worked tirelessly on his throwing accuracy. Recently, he has trained extensively with Tom House, an elite throwing coach who has also worked with Tom Brady.
It seems to be working: House told Bleacher Report that Tebow's accuracy has improved significantly.
It remains to be seen whether Tebow will ultimately end up on a roster, but even the possibility has energized his fan base. By Wednesday, his name was trending worldwide on Twitter, with the majority of tweeters sending favorable sentiments to Tebow and the Eagles.
As passionate as Tebow is about football – and make no mistake, he is very, very passionate – the 27-year-old tells PEOPLE that his charity work is ultimately more important than any achievements he has on the field.
'A Legacy Greater Than Football'
Spend any time with Tebow, and he'll talk about his life's passions: his faith, football, and his charity work. Just two days before reporting to practice, Tebow was on a golf course in Florida, headlining the Tim Tebow Foundation's 5th annual Celebrity Gala & Golf Classic.
He was joined by two dozen celebrities, including Jake Owen and Evander Holyfield, to raise funds for the children that the Foundation serves around the world. The event was a success: the previous night's gala had raised a record amount of funds that would be used for the Foundation's outreach. 
Walking along the golf course with PEOPLE, Tebow was in a fantastic mood – and clearly thinking about things other than football. "Everyone needs to do something greater than themselves, to do something for other people," he says. "That's why we're here; that's why we're always looking for more ways that the Foundation can help others. I want to build a legacy that is greater than football."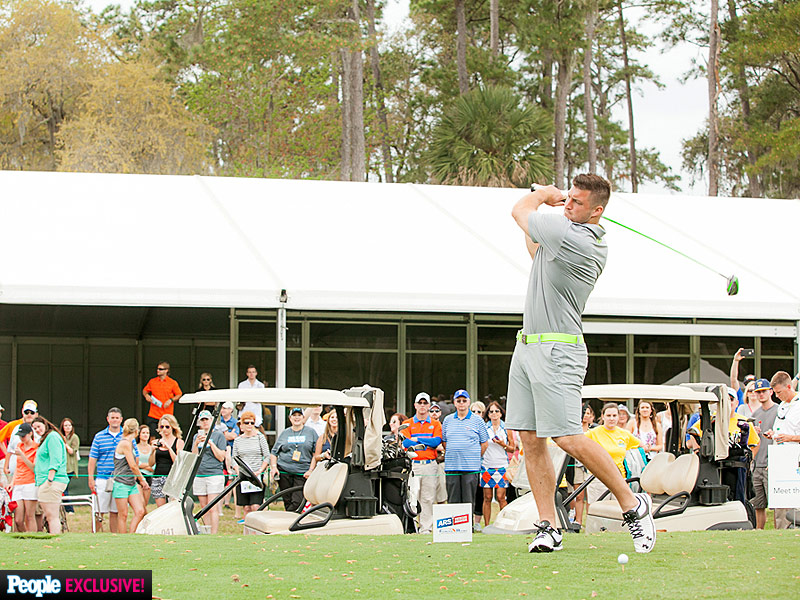 Tim Tebow at his Foundation's golf classic
Courtesy Tim Tebow Foundation
And that legacy is getting bigger all the time.
The Foundation has many facets, including "Timmy's Playrooms" in children's hospitals, the W15H program that grants wishes to sick teens, and a 5-story hospital in the Philippines. The Foundation also includes Orphan Care, a program that provides support to orphans and grants to families adopting children with special needs.  
Last month, the Foundation introduced Night To Shine, a worldwide prom night for people with special needs. 
The Night to Shine, in particular, had an unintended impact on Tebow. During the event, he visited proms in two different states, and found himself nearly moved to tears by the experience. "I had a mother come up to me and say, 'my daughter will never get married. She will never have children. But for this one night during the prom, she was a princess.' That just blew me away. That's why I do what I do. That's why this is my passion."
The NFL and Beyond
Even as the possibility of a renewed NFL career looms on the horizon, Tebow has a lot of other irons in the fire. In addition to his work at the Foundation, he is an on-air SEC Network analyst. "I love it," he says. "The people I work with are great, and I really am happy there."
He also does regular segments on Good Morning America, where he spotlights feel-good human interest stories. (In one memorable segment last December, he surprised holiday shoppers in Orlando by paying off their layaway purchases.) 
And other offers keep emerging – although Tebow has to take a 'wait and see' attitude as he determines what will materialize with the NFL. "I have a lot of exciting opportunities coming up," he says. "I have a lot of plans, other things to do. I'm always open to new things."
Despite his busy schedule, he has worked his training regimen into his busy schedule. 
"Football really means a lot to me," he told PEOPLE. I wouldn't work as hard as I do if I didn't care so much about it. I train about six days a week. I'm training at the same intensity as I did when I was playing football. I've done it for my entire life and I love it. I try to be active and to keep my body in the best shape I can possibly be in." 
And as for the charity work? "I'll never stop doing it," Tebow says. "It's a big part of who I am."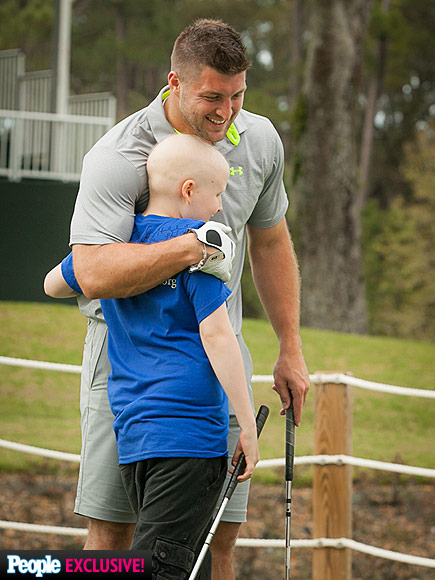 Tim Tebow and a young fan