By
Brad Gagnon
, NFL Analyst
Robin Marchant/Getty Images
It happened again. And in this case, all it took was an 88-minute window on a slow-but-not-sleepy Monday afternoon in mid-March. 
Tim Tebow, without saying a word or throwing a pass, hijacked Twitter and became the talk of the NFL world.
It started at 2:35 p.m. ET, the moment ESPN's Adam Schefter reported on Twitter that the world's most famous unemployed quarterback was working out for the Philadelphia Eagles. Exactly 88 minutes later, Schefter reported that Philadelphia would not be signing Tebow, but the damage had been done. Tebow's immortal story had been resurrected right here, on NFL.com and everywhere in between.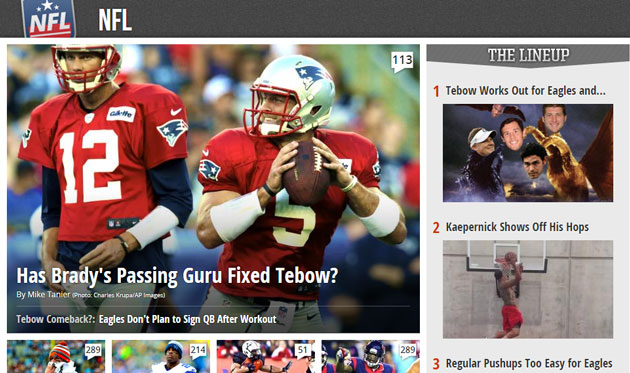 Screenshot/Bleacher Report
Bleacher Report and the majority of its counterparts featured Tim Tebow news Monday evening.
Despite the fact the Tebow news didn't break until midway through the afternoon on the East Coast, his name was searched on Google more than half as frequently as U.S. President Barack Obama, who made headlines over the weekend by cracking jokes about pot and Hillary Clinton's email controversy at a dinner in Washington.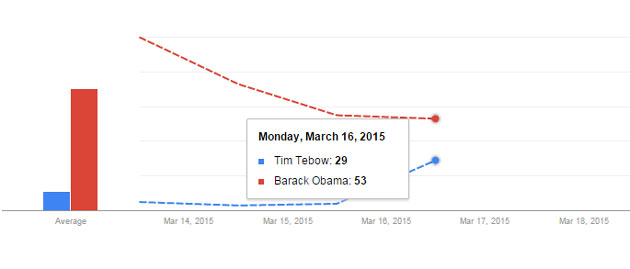 Google Trends
But that's nothing new. Tebow was without a doubt college football's most famous face at the University of Florida between 2007 and 2009, he stole the NFL draft spotlight from top pick Sam Bradford in 2010 and he was undoubtedly the league's most talked-about player during an astonishing playoff run with the Denver Broncos in 2011. 
Tebow didn't play a lot beyond that, but the football world wouldn't let him escape its collective consciousness. 
We're talking about a man who started two football games in 2012 and has played in zero regular-season games since. Yet a poll conducted entirely in 2013 by Nielsen and market research firm E-Poll found that he was America's most influential "athlete." 
Tebow has 2.9 million Twitter followers, which is more than every active NFL quarterback, and every active player except Reggie Bush. More people follow him on Twitter than Aaron Rodgers and Russell Wilson combined. 
Twitter followers: Tim Tebow vs. current NFL quarterbacks

| | | |
| --- | --- | --- |
| Quarterback | Team | Followers |
| 1. Tim Tebow | ESPN? | 2.9 million |
| 2. Michael Vick | Free agent | 2.3 million |
| 3. Drew Brees | Saints | 2.2 million |
| 4. Aaron Rodgers | Packers | 1.3 million |
| 5. Robert Griffin III | Redskins | 1.2 million |
| 6. Russell Wilson | Seahawks | 1.2 million |
Twitter.com
He also has 2.1 million friends on Facebook, which is more than every active player except Bush and Michael Vick. 
There's really no precedent for this type of interest in a player who, for all intents and purposes, has been retired for nearly two years. Both he and future Hall of Fame tight end Tony Gonzalez have been out of football since around the same time, and both now hold jobs in sports media. But according to Google Trends, next to Tebow, nobody cares about Gonzalez: 

Google Trends
In fact, next to Tebow, nobody really cares about typical active starting quarterbacks like Matt Ryan or Andy Dalton:

Google Trends
Unlike those guys, Tebow has become a celebrity who transcends the sports world, which makes a lot of sense considering he's barely still a member of said community. 
"If you get good stuff from Tebow," TMZ's Van Lathan told Bleacher Report this week, "you're looking at something that goes to the top of your website, for sure." 
Lathan says stories featuring Tebow generate interest in the same ballpark as those that involve current sports stars Tom Brady and Cristiano Ronaldo. He pointed me to a video on TMZ's website in which Tebow "reviews" the Liam Neeson film Non-Stop by offering up 28 seconds' worth of inconsequential pleasantries. A total of 30 words come out of Tebow's mouth, but Lathan said the clip produced "great numbers."
"People," Lathan added, "just want to know what he says."
What makes Tebow so popular, so polarizing? The fact that he's polarizing certainly increases his popularity, but it can't be that simple. And there has to be something that causes him to beget more public interest than almost anyone who actually, you know, still plays sports for a living. 
There has to be a catalyst that explains why Tebow has become the Kim Kardashian of the sports world. It would be easy to conclude that the man, like Mrs. Kanye West, is just "famous for being famous," but if you dig deeper there are some straightforward and logical explanations for why Tebow has been able to sustain his fame well beyond 15 minutes. 
We Created a Media Monster
The moment he began to leave an indelible mark on the college football world, Tebow's popularity was becoming a brake-less freight train. That 2007 Heisman Trophy-winning campaign, that emotional "Promise" speech followed by a national championship in 2008 and then his final year, the draft, the quest to start in Denver. There was no way to slow that locomotive down.
With hindsight, you can see it here: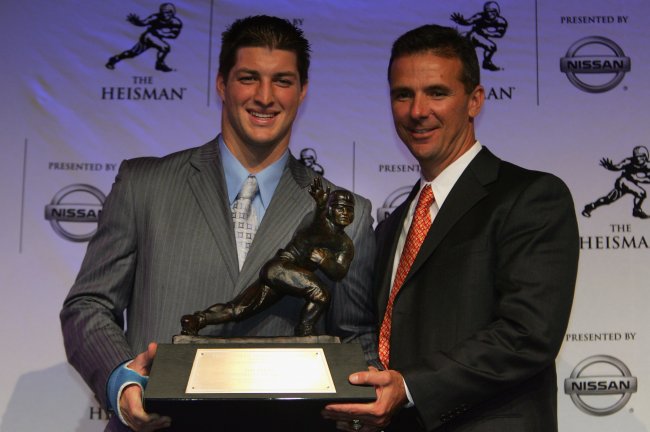 Chris Trotman/Getty Images
And here: 
Tebow was tailor-made for a superhero role within a sports culture that was desperately seeking that, and the media and fans were quick to cast him and begin filming. 
It was around that time when sports media veteran Dan Shanoff launched a blog devoted entirely to Tebow's world. For Shanoff in 2009, it was a way to capitalize on Tebow's swelling Q-rating as he returned to Florida for his senior year, but it was also an experiment in what he called "hypertopical journalism." 
"There were plenty of sites covering college football or specific teams," Shanoff told Bleacher Report, "but no one had ever created a site about a specific individual athlete, albeit one who was arguably of more interest to fans than any individual team."
It took off. Over the 2009 season alone, Shanoff published 600 posts. 
"When you add in his predraft, post-draft and first two NFL seasons, that total nearly doubled," said Shanoff. "Given that I ran an indie site about it without a major site distributing the content, there was a surprising volume of audience coming directly to the site."
In the world of Tebow, Shanoff was Nostradamus. He saw a sports superhero's origin story beginning to unfold and got in on the ground floor of a media circus that would only expand exponentially from there. 
"People weren't fans of a team—they were fans of Tebow," said Shanoff. "I think that goes a long way to explaining the staying power of his popularity. It is not unreasonable at all for fans to gravitate toward a successful, charismatic, philanthropic individual athlete rather than a team, even if that athlete isn't actually on the field."
We probably should have seen it coming. Those traits, they're magnetic. 
To Stephen Mosher, who specializes in sport and pop culture as a professor in the department of Sport Media and Management at Ithaca College in New York, Tebow possesses an ideal cocktail for popularity in the American sports and celebrity spectrum. 
"We cannot ignore the fact that Tim Tebow is white, that he's modest, that he's well-behaved and that he's every mother's dream date for their daughter," Mosher told Bleacher Report, adding that Tebow has of course managed to successfully avoid drugs, womanizing and the common "sewer-like stuff that exists in professional and college football."
A lot of athletes fit that first mold, but Mosher notes that Tebow is also "a savvy self-promoter" and "a master actor," which is incredibly difficult to be while also giving an impression of modesty. It's something that can't be taught—"Charisma is a weird thing," said Mosher. "It defies logic to try to understand it."—but it might also mean Tebow's been well taken care of by those driving his public-relations vehicle. 
Mosher notes that Tebow rarely missteps and that it appears every action, every word, has been finely manicured. He doesn't hide, but he picks his spots when it comes to public appearances, interviews and everything that could reflect on his image. 
Chuck Klosterman wrote of that savvy in a column for Grantland a few years ago: 
Tebow is a faithful person. He's full of faith—filled to the top and oozing over the side. It's central to every part of him. When someone suggested that he mentions God too frequently (and that this repetition is what annoys his critics), Tebow said, "If you're married, and you have a wife, and you really love your wife, is it good enough to only tell your wife that you love her on the day you get married? Or should you tell her every single day when you wake up and have the opportunity? That's how I feel about my relationship with Jesus Christ." This is probably the smartest retort I've ever heard an athlete give to a theological question. What possible follow-up could the reporter have asked that would not have seemed anti-wife?
Speaking of God, the man upstairs is along for this ride as well. Tebow has him sitting shotgun, which, of course, makes him extremely popular in a nation which, according to Pew Research, is 78.4 percent Christian. 
Mosher believes Tebow, as an outspoken Christian lauded for being humble, happy and hard-working, became a symbol for what he called "Southern good ol' boy culture."
"It reaffirms for that particular population what they think is the right way to live your life," he said. "Maybe that's his gift. Not so much being a football player but being able to represent that nostalgic idea of what an American man is supposed to be: big, hulky handsome, modest and an all-around good guy. And it might be, in this dark and cynical time, what America lusts for so much that we just sort of forgive him for his inadequacies as an athlete."
But that alone is not how Tebow became a pop-culture force strong enough to survive those inadequacies. No, he had to be a lightning rod. He had to divide America. Otherwise, Tebow would be another Peyton Manning or Tom Brady, both of whom share most of the aforementioned qualities. Only not as good at football. 
But that's where this media cocktail becomes more potent than any we've seen. Because Tebow was, in fact, a sublime subject for ESPN, its world-famous "embrace debate" mantra and the similarly fashioned approaches of that network's many peers and counterparts. 
Not only did he divide the country with his public displays of faith, which—I don't have to tell you this—many appreciate but many despise, but even on the field Tebow was tailor-made to be a catalyst for all-out war on forums, in comment sections, on Reddit and anywhere else sports fans decide to do battle over topics typically served up on First Take-sized platters. 
There are those who applaud him for championing Jesus Christ, and there are those who would prefer to keep religion out of their sportscasts. 
There are those who buy into his shtick, and there are those who believe he's phony.
"I think that he's the perfect contemporary sports figure in terms of the way he polarizes people. I think it's very difficult to be indifferent on Tim Tebow," said Lathan. "All of that [character trait-related] stuff is coding to people, and they can relate to him. And the people who don't relate to him really, really, really don't."
Furthermore, there are those who believe he's a great quarterback because his teams have typically won more frequently than they've lost, and there are those who claim this is a team sport while pointing to his miserable individual statistics and his oft-criticized mechanics.
As you can tell, these debates became bigger than Tebow. He was just our excuse for having them. That's why Awful Announcing editor Matt Yoder, who has followed Tebow's career from a media and pop-culture perspective every step of the way, sees Tebow as nothing more than a prop. 
"It's really not about Tebow anymore," Yoder told Bleacher Report. "It hasn't been for a long time, and it really goes back to the miraculous, improbable nature of his 2011 season in Denver. That season wasn't just statistically ludicrous, it gave everyone something to argue about. Tebow's fans could point to his wins and his fourth-quarter performances. Tebow's critics could point to his first three quarters of throwing the ball like Garo Yepremian.
"But instead of it being contained there, the media—and ESPN in particular—knew it was onto something because the Tebow debate meant ratings. It wasn't just enough to talk about football or the Denver Broncos anymore. It had to become something more. The quarterback position, the SEC, religion, evangelism, sex, social issues, whatever.
"The defining quote is from former ESPNer Doug Gottlieb who admitted after he left Bristol, 'I was told specifically, you can't talk enough Tebow.' At that point, Tebow was transformed from being a human being to a human ratings point and pageview counter. And neither Tebow—or whatever we've turned him into—nor the sports media has been the same since."
Not to get all philosophical on you, but if Tebow has become a caricature of every quality he's represented, is it really Tebow who's become too big to forget, or is it the idea of Tebow that has become unforgettable? 
"He is as close to folklore as we get in sports," said Shanoff. "He is as close to mythological as we get in sports. That kind of legacy produces an out-sized interest in whatever he does, certainly if it includes potentially returning to football, but it extends far beyond that.
"His fanbase is massive. The base of people who find him more polarizing is massive, too. Because of that out-sized interest coming from all sides, the media sees huge audience numbers when it covers Tebow, so it becomes a virtuous—some might say vicious—cycle."
Around the time we started to essentially objectify Tebow, people couldn't stop talking about him (or it)—as Klosterman wrote in 2011, "I feel compelled to write about him, even while recognizing that too much has been written already."—and the debate was so layered and so juicy on and off the field that it was and still is widely embraced. 
As a result, Tebow has become something bigger than any quarterback with a career NFL passer rating of 75.3 merits. 
Logically, you'd think it'd be easier to forget about a person than a symbol, which might help shed some light on why many of us are still obsessed with Tim Tebow.
Or whatever we've turned him into. May I suggest a brake-less freight train? 
Is There an Expiration Date on His Fame?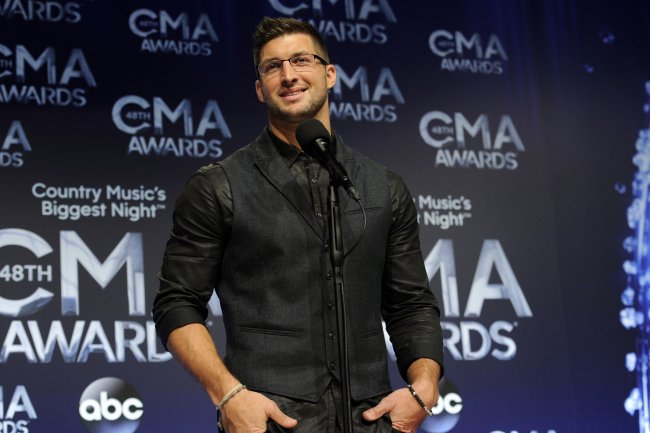 Evan Agostini/Associated Press
When breaking down why we support athletes, sports psychologist and author Bruce Coopersmith believes it's primarily about identification. 
"We see that story as the story of our lives being played out on a football field," Coopersmith told Bleacher Report. "We see ourselves in another person."
He describes three types of athletes whom fans identify with most: 
The guy who makes it against all odds: This is the prime Tim Tebow scenario, starting from claims regarding his birth and culminating with his attempt to become an NFL quarterback despite the fact no NFL front offices appear to believe in him. 
The poor guy who rides it to the top: Or as Coopersmith puts it, the Rocky Syndrome. "The poor guy doesn't have anything going for him, and then all of a sudden, because of his hard work and his heart, he eventually becomes a world-known figure." 
The guy who comes back: "This is the guy who is pulled down by injuries, personal problems, domestic disputes, whatever," said Coopersmith. "Comes back, renews their identification with the field and becomes a star again."
Tebow clearly fits the first profile, probably fits the second one and the jury is still out on the third. And that might be the primary reason why people are having so much trouble shaking him from their brains. 
"His story right now is still live and exciting," said Coopersmith, "and it's great to follow because he's trying to get back and pull the rabbit out of the hat and prove that the NFL is wrong and he's meant to make it no matter what people say. … He's being counted out, but in the scenario of Tim Tebow, that doesn't work."
Had Tebow given up and committed to television or another stable post-NFL job a year ago, Coopersmith suggests he'd already have begun to lose his status as a national celebrity. But as NFL Media's Albert Breer detailed in a recent story based on a discussion with the man who's training him, Tebow doesn't plan on giving up anytime soon. 
"What amazes me is this young man, with no job prospects, has prepared just as hard as he would if he were the No. 1 quarterback for an NFL team," mechanics tutor Tom House told Breer. "He's busted his butt. He spins the ball better than he did and he's much more accurate than he was. I think he's ready."
And if we're counting down toward the end of Tebow's time in the limelight, that workout with the Eagles reset the clock. 
Lathan has a similar view, summing it up in a way that causes me to think of Tebow, somewhat ironically, as someone in career purgatory. 
"We still don't know how it's going to end, but also how it's going to begin for him. If Tim Tebow were still in the NFL right now, we'd be used to it," said Lathan, noting that we won't begin to stop obsessing over Tebow until "he becomes whatever it is that he's going to become."
"Right now," said Lathan, "we still don't know what's going to happen."
But it's funny, because while Tebow and his many loyal followers believe he's still got unfinished NFL business, we once again discover a national divide when it comes to his career status. 
"There are people that want him to never stop trying to make it in the NFL, and then there are people that want him to quit right now," said Lathan. "And I think because of that, he's a fascinating pop culture and sports figure." 
Coopersmith believes that a lot of the people who want to see Tebow give up on his NFL dream and fade from the public consciousness aren't Tebow haters, but instead those who aren't in his corner. They don't identify with Tebow, rendering his story irrelevant. But why do folks want Tebow to disappear if all they are is simply indifferent about him as a person and player? It could be that because Tebow has stolen so much of the spotlight, many feel slighted on behalf of whomever they better identify with. 
In that respect, oversaturation might be Tebow's biggest enemy. 
"They might get tired and bored and fed up with all the media attention when there's other scenarios, when there are other bases for identification that they see as more relevant," said Coopersmith. 
The bad news for those people is that Tebow is only 27, and he plays a position with a long shelf life. That position also happens to be the most important one in football, and he has a specific skill set that could be appealing to desperate teams for years to come, not to mention the potential boost he offers in ticket and merchandise sales. 
If indeed Tebow is as dedicated as the evidence indicates, he could remain on the NFL radar for years to come, extending his time in purgatory as well as the celebrity sphere. Scary as it sounds, as Shanoff points out, he could continue to be an exception to all of the rules we've bought into regarding fame.
"Tebow is not a template," said Shanoff. "People want to compare him to other athletes who are out of sports or who didn't have long NFL careers. That makes no sense to me, because it is impossible to ignore the exceptionalism at play here.
"Tebow is a 99.99th percentile sports figure, for a unique combination of reasons. He was in 2006 as a freshman, in 2007 as a Heisman winner, in 2008 as a national champ, in 2009 as his sport's greatest storyline, in 2010 as the NFL draft's most polarizing figure ever, in 2011 during his wild run with the Broncos, all during an unprecedented rise in media accessibility and fan interaction. That accumulation is not typical, and therefore neither is the continuing fan interest in him."
 Buzzy Says : Worldwide Tim Tebow has 7.2M Fans Wake Up NFL.
Brad Gagnon has covered the NFL for Bleacher Report since 2012.