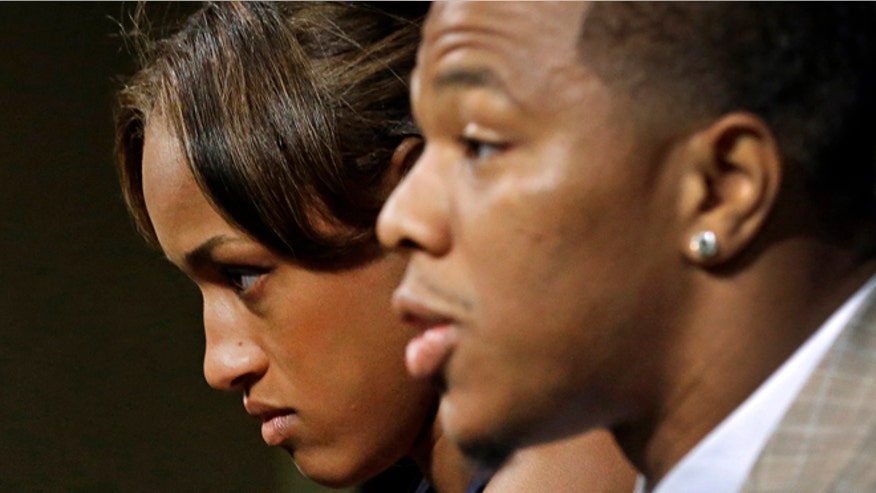 May 23, 2014: In this file photo, Janay Rice, left, looks on as her husband, Baltimore Ravens running back Ray Rice, speaks to the media during an news conference in Owings Mills, Md. (AP)
DEVELOPING: The Baltimore Ravens fired running back Ray Rice and the NFL suspended him indefinitely after new video emerged showing the vicious punch he used to drop his then-fiancée in the elevator of an Atlantic City hotel.
The team confirmed the move in a tweet that came hours after video obtained by TMZ showed the 5-foot, 8-inch, 220-pound athlete delivering a left-handed blow to the face of Janay Palmer, appearing to knock her unconscious. The video was shot from inside the Revel Hotel and Casino in Atlantic City, and is the footage shot before the previously circulated video that showed Rice dragging his unconscious wife-to-be out of the elevator on Feb. 15.
Rice had been previously suspended for two games by the NFL in a punishment that drew widespread criticism as too lenient and even prompted Commissioner Roger Goodell to admit he "didn't get it right." But the NFL said in a statement early Monday that it had not previously seen the second video, meaning the punishment was likely tempered by Rice an Palmer's description of what happened in the elevator.
"Roger Goodell has announced that based on new video evidence that became available today he has indefinitely suspended Ray Rice," the NFL tweeted.
When the new video emerged, a series of tweets from players around the league shows that whatever support Rice has went up in smoke after the second cleat dropped.
"This piece of sh– needs to be out of the league. Period," tweeted former Saints and Browns linebacker Scott Fujita, a player's union representative during his career.
"This video makes me sick to my stomach," Denver Broncos defensive tackle Terrance Knighton said in one of several tweets, including one in which he said Rice belongs in prison, not on an NFL football field.
"He could've killed that girl. They need to sports science the force of that punch. NFL players are STRONG… Like very strong," tweeted former all-pro center LeCharles Bentley.
Other players directed their anger at the league and Goodell, who suspended Rice for a mere two games, including Sunday's opening day loss to the Cincinnati Bengals. Although Goodell later said he "didn't get it right," and implemented a much tougher stance on domestic violence.
"To say you got that wrong is an understatement. Very disappointed in you. Wow…unbelievable," wrote former linebacker and likely future Hall of Famer London Fletcher.
"2 games. Disturbing," added Green Bay Packers guard T.J. Lang.
Rice and Palmer married on March 28, one day after a grand jury indicted Rice on an aggravated assault charge. Rice avoided jail time by entering a pretrial diversionary program.
"There are consequences when you make a mistake like that," Ravens coach John Harbaugh said at the time. "I stand behind Ray. He's a heck of a guy. He's done everything right since. He made a mistake. He's gonna have to pay a consequence. It's good for kids to understand it works that way. That's how it works. That's how it should be."
The couple held a joint news conference in May, where Rice apologized and Palmer said the incident was partly her fault, to the alarm of domestic abuse counselors. The suspension handed down by the league, considerably shorter than other penalties doled out by the league for such transgressions as smoking marijuana, drew sharp criticism from advocates for victims of domestic abuse.
Rice, a second-round draft pick in 2008, had strung together four straight seasons with more than 1,000 yards rushing before last year's meager 660 yards rushing and 3.1 average yards per carry.