By
Patrick Clarke
, Featured Columnist
David J. Phillip/Associated Press
Tim Tebow
is set to begin a brand new chapter in his career as a college football analyst with ESPN's SEC Network this coming fall, but that doesn't mean the former Heisman Trophy winner is ready to give up on his dreams of playing professional football.    
Tebow, 26, spent three seasons in the NFL and appeared for three different teams, winning his first postseason start in a memorable overtime victory over the Pittsburgh Steelers in the 2012 NFL playoffs as a member of the Denver Broncos. Though he is currently out of the league, he is still training as if he's a starting signal-caller.
Recently, Tebow sat down to talk about the launch of the SEC Network on Aug. 14 and his new gig on "SEC Nation." But he also says his venture into the broadcasting world hasn't gotten in the way of his training, per The Tennessean's Mike Organ:
I'm training every day and feel like I'm the best that I've ever been. I still love it, love playing, talking about it, and I'm just excited about whatever the future holds. Who knows what could happen? But I'm excited about it, though.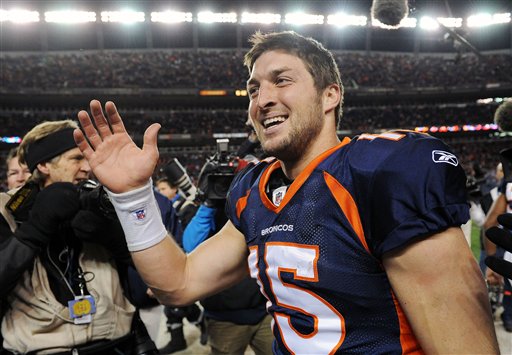 Chris Schneider/Associated Press
In March, Tebow's former coach at Florida Urban Meyer told CBSSports.com's Jeremy Fowler that Tebow wasn't ready to give up on his goal of playing in the NFL:
"You'd imagine how he works. Works every day. He's hoping. There are some conversations about it. I don't know too much. There's hope and he says there's stuff going on."
Is Tim Tebow's NFL career over?
Yes, he's played his last down.

Yes, but he'll play in a different league.

No, he'll get another chance somewheere.
Although Tebow is clearly doing everything in his power to keep his NFL dreams alive, his biggest challenge will be shaking the stigma associated with his playing style. 
Despite his unrivaled leadership traits and ability to inspire others, Tebow's reputation as a quarterback has taken a massive hit since he made the jump from college to the NFL. In his marquee NFL season with the Broncos in 2011, Tebow completed just 46.5 percent of his passes and came under fire for not only his awkward throwing motion, but also his inaccuracy. 
But while Tebow may never get another crack at the NFL, his perseverance and intensity are commendable and are sure to shine through during his time on television.