May 9, 2014
ESPN.com news services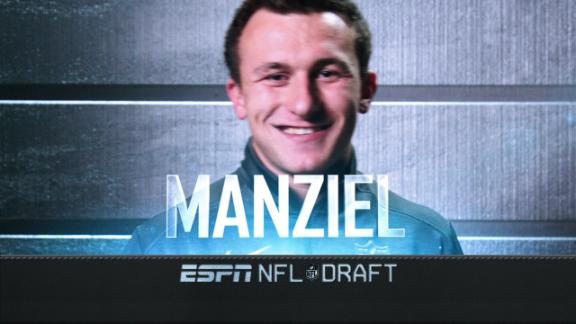 Johnny Football became Johnny Free Fall, and now he's headed to Cleveland.
After an agonizing span of nearly three hours when he went undrafted, Johnny Manziel finally was drafted by the Cleveland Browns, who moved up four spots to select the quarterback with the 22nd overall pick in the NFL draft.
 The Browns made the deal with the Philadelphia Eagles, who received the 26th overall pick and a third-round selection from Cleveland.
Despite standing at just under 6 feet tall, Manziel was one of college football's most dynamic players during his two-year career at  Texas A&M.
Manziel had a historic 2012 season with the Aggies, culminated by becoming the first freshman to win the Heisman Trophy. He also became the first freshman in NCAA history to pass for 3,000 yards and rush for 1,000 yards in a single season.
Manziel also was productive as a sophomore, passing for 4,114 yards and 37 touchdowns while rushing for 759 yards.