By John Breech | CBSSports.com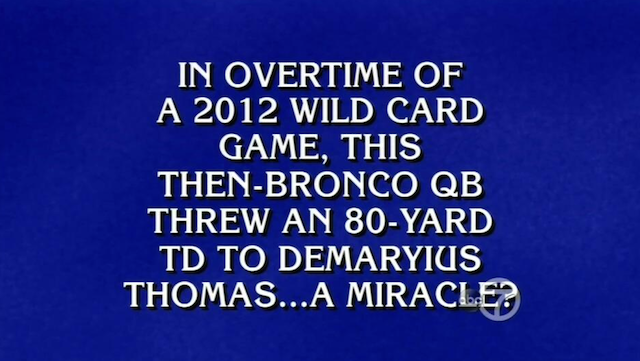 Who is Tim Tebow?
That's not just a metaphorical question I ask myself before bed every night anymore, it's now a Jeopardy answer. Well, it's a question, but as we all know, the question is the answer on Jeopardy.
In a category about touchdowns on Wednesday, Tebow was the $400 answer.
If you'll notice in the wording of the clue at the top of the page, Jeopardy uses the word 'miracle.' Even game shows realize what a magical season Tebow had with the Broncos.
Anyway, because you're wondering, here are the rest of the answers from the category:
$200: Who is Drew Brees?
$400: Who is Tim Tebow?
$600: Who is Franco Harris?
$800: Who are the Giants?
$1000: Who is Joe Montana?
The group completely whiffed on the $800 clue, which basically said, 'This was the team that beat the Patriots in Super bowl XLVI.'
Oh, and it's probably worth mentioning, this wasn't Tebow's first time as a Jeopardy answer. He was also an answer in February 2013. They seem to like him over at Jeopardy.
(Wink of the CBS Eye to @xmasape on Twitter)
<:footer>