By Brian Leigh , Featured Columnist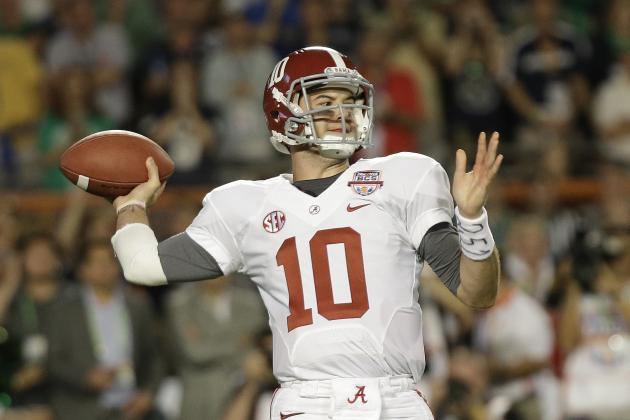 David J. Phillip/Associated Press
It's easy to forget, as the end of bowl season transitions so neatly into the meat of the recruiting cycle, then swiftly into the NFL Combine and draft, that we just had to say goodbye to some of the greatest college football players of our time.
Johnny Manziel, the first freshman to win the Heisman Trophy, is gone. Jadeveon Clowney, one of the most polarizing and at times terrifying defensive players ever, is gone.
But of all the departed superstars, Alabama quarterback AJ McCarron sticks out as a special case, especially since his NFL prospects are mired in such heated debate.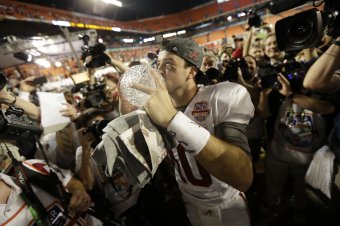 David J. Phillip/Associated Press
Some think he's the consummate winner and a model of consistency realized; others think he's the consummate game manager and a model of adequacy rewarded.
Say what you will, though: No one can deny McCarron's impact on the SEC and the college football landscape as a whole these past three seasons.
So why not compare him with another future College Football Hall of Famer whose NFL prospects (and legacy) spark heated debate?
Tim Tebow.
Which player really had the better college career?
Team Success
 McCarron and Tebow both won two national championships as active college players, though McCarron added a third as a redshirt freshman on the 2009 team that was quarterbacked by Greg McElroy.
Tebow, it should also be added, was only the starting quarterback in one of his two victories. Chris Leak was the primary quarterback on Florida's 2006 national title-winning team, though Tebow did play a big role coming off the bench in goal-line and short-yardage situations.
Against Ohio State in the BCS National Championship, Tebow had two touchdowns—one passing, one rushing—which arguably made him more important to his team's first title than McCarron was to his own, despite the fact that McCarron was a starter.
Alabama won that game 21-0 against LSU, which didn't even cross midfield until there were eight minutes left in the game.
Calling those championships a relative wash, with a slight advantage for McCarron, let's dig a little deeper into team success during each QB's tenure: 
McCarron vs. Tebow: Team Success

| | | |
| --- | --- | --- |
|   | McCarron | Tebow |
| Career Record in Games Appeared | 43-6 | 48-7 |
| Career Record as Starter | 36-4 | 35-6 |
| Record vs. Ranked Teams (as Starter) | 13-4 | 9-3 |
| Record vs. Unranked Teams (as Starter) | 23-0 | 26-3 |
| Longest Winning Streak (as Starter) | 15 | 22 |
Source: ESPN.com / Sports-Reference.com
McCarron wins overall team success on top of championships, especially given his perfect 23-0 record against unranked opponents.
Some would call that "beating up on the inferior," but there's something to be said for never losing against worse teams. Tebow's Gators couldn't do it in 2007, falling to unranked Auburn, or in 2008 when it famously lost to Ole Miss.
McCarron had to face a harder schedule, too.
The SEC wasn't The SEC during Tebow's time in Gainesville, only showing seedlings of the dominant conference it would become.
McCarron thus had to play five more games against ranked competition, and he still came out with the better overall record.
Advantage: McCarron
Personal Success
 There's no need to waste much time on this one; statistically, the difference between Tebow and McCarron is catastrophic.
If you thought this would be a one-sided race after the "team" section, you'd best reconsider.
McCarron vs. Tebow: Career Stats

| | | |
| --- | --- | --- |
| PASSING | McCarron | Tebow |
| Completion Percentage | 66.9 | 66.4 |
| Passing Yards | 9,019 | 9,285 |
| Passing Touchdowns | 77 | 88 |
| Interceptions | 15 | 16 |
| Adjusted Yards/Att | 9.6 | 10.4 |
| QB Rating | 162.5 | 170.8 |
| RUSHING | McCarron | Tebow |
| Rushing Attempts | 119 | 692 |
| Rushing Yards | -50 | 2,947 |
| Yards Per Carry | -0.4 | 4.3 |
| Touchdowns | 3 | 57 |
Source: Sports-Reference.com
On pure passing numbers, Tebow and McCarron had relatively similar careers. Tebow was a little bit better, but not by much.
Obviously, though, you can't assess Tebow without mention of his rushing stats, which might be even more important since he was always more of a quarterback-fullback hybrid than a pure, traditional passer.
Next to McCarron's rushing stats, which skew into the negative because college football counts sacks as rushes for loss, the debate becomes lopsided.
Very lopsided.
Then there's the matter of accolade. Tebow won a Heisman Trophy in 2007 and nearly won a second in 2008.
McCarron won a Maxwell (that he probably didn't deserve) in 2013, but next to Tebow's trophy collection—which also includes two Maxwells along with a Davey O'Brien, an AP Player of the Year Award and a Campbell Trophy (the "Academic Heisman")—that is a feat that barely registers.
Tebow put up better numbers than McCarron across the board. For that, he received more personal acclaim.
This is a pretty easy choice.
Advantage: Tebow
Context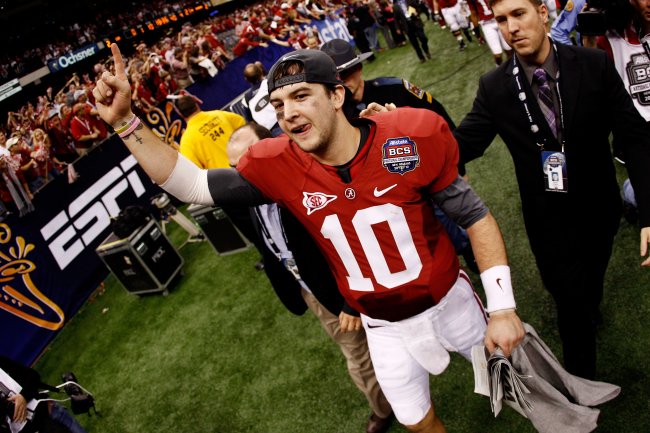 Chris Graythen/Getty Images
There's a small disconnect between the two sections above; one which calls Tebow's stats into question next to McCarron's, despite the magnitude of his superiority.
Did you catch it?
As stated in the "team" section, Tebow didn't play in the same SEC as McCarron. You could argue that the modern SEC—the undisputed paragon of college football—exists in large part because of Tebow's Gators in the middle part of last decade, and you'd probably be right. But Tebow still didn't have to play against it.
That calls some of Tebow's numbers into question. Yes, he was a slightly better passer than McCarron on paper, but did that have to do with the quality of all the unranked defenses he faced?
As with my comparison between McCarron and Aaron Murray last month, let's look at how each player fared throwing the football (as a starting quarterback) against differently ranked pass defenses, according to the Football Outsiders S&P ratings:
McCarron vs. Tebow: Rating vs. Pass Defense (vs. FBS teams)

| | | |
| --- | --- | --- |
|   | McCarron Rating (Games) | Tebow Rating (Games) |
| Ranked 1-20 | 137.4 (11) | 148.1 (11) |
| Ranked 21-40 | 168.3 (6) | 180.1 (7) |
| Ranked 41-60 | 164.1 (9) | 168.2 (10) |
| Ranked 61-80 | 212.2 (3) | 183.0 (9) |
| Ranked 81 or Higher | 179.0 (7) | 170.1 (1) |
Source: Sports-Reference / Football Outsiders
So much for that theory.
Even though McCarron played more "ranked" teams than Tebow, Tebow played more highly-ranked pass defenses. As stated earlier: The SEC was a different conference during Tebow's day.
Defense used to be its primary calling card.
Despite the era and better quality of the defenses he faced, Tebow actually stepped up his passing game whenever he faced superior competition—much more than McCarron ever did. And these numbers don't even account for his rushing, which shine an even more favorable light on how he performed.
The other piece of context is supporting cast. Some might argue, for example, that Tebow should be docked because he played with Percy Harvin, Riley Cooper and Aaron Hernandez, all of whom went on to successful careers (when they were on the field) at the NFL level.
The logic there is sound but I don't think it can be taken all that seriously. McCarron had Amari Cooper—who could well go on to a better NFL career than his namesake, Riley—and a deep stable of pass-catchers his final two seasons in Tuscaloosa. Who's to say what their NFL futures might hold?
McCarron also had the benefit of NFL-caliber running backs—always plural, never singular—lining behind him. Defenses bit hard when Alabama ran play action, opening up throwing windows for McCarron that most quarterbacks don't get to enjoy.
There's no good way to quantify it, but the supporting cast thing seems like it's close to a wash. Maybe it's slightly in Florida's favor but not enough to skew the drastic difference in numbers between Tebow and McCarron.
By that token, it is definitely fair to take something away from Tebow's superior stat totals.
Once put in context, they actually look better instead of worse.
Advantage: Tebow
Conclusion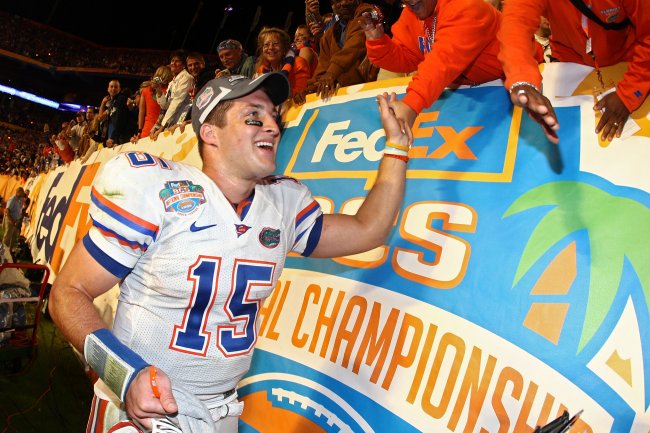 Donald Miralle/Getty Images
McCarron has three rings to Tebow's two and two as a starter to Tebow's one.
But championships won—blasphemous as it may sound—is one of the most overrated metrics in football. Not because it doesn't matter, but simply because it leads to the most fallacious conclusions.
You'll never win arguing that Eli Manning is better than Aaron Rodgers. You'll never win arguing that Trent Dilfer was better than Dan Marino. Most great quarterbacks win championships and most championships are won by great quarterbacks.
But it's not an absolute science.
Therefore, even the slight advantage McCarron has in championships isn't enough to power him over Tebow, whose statistical dominance and Heisman Trophy are decisive factors in this argument.
Who Had the Better College Career?
AJ McCarron

Tim Tebow

Tie
You can't go wrong picking either guy. Both will be remembered long after their playing days are nigh (which Tebow's already are). Both will be enshrined in the College Football Hall of Fame in Atlanta, or at least they will be if there's any justice in the selection process.
But despite his well-documented failings at the professional level, there's a reason Tebow is remembered so fondly by college types.
He was truly one of a kind.
Final Verdict: Tebow