By
Patrick Clarke
, Featured Columnist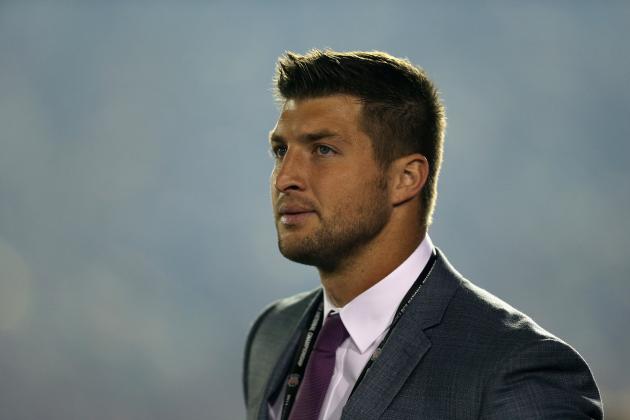 Jeff Gross/Getty Images
The Ohio State Buckeyes football program has run into trouble with the NCAA in the past, but their 2013 secondary violations are likely to have NCAA president Mark Emmert and others laughing.
According to the Northeast Ohio Media Group's Doug Lesmerises, a recent Sports Illustrated investigation detailing Ohio State's secondary NCAA violations over the past year uncovered some minor missteps, including one particularly amusing compliance report involving former Florida Gators quarterback Tim Tebow and an eight-second phone conversation.   
That's right, the bombshell violation featured one of the most polarizing football players on the planet. Here's what happened: Linebacker prospect Clifton Garrett, who signed with LSU on Feb. 5, called Buckeyes head coach Urban Meyer on March 9, 2013, only to find out he was on vacation and eating lunch with Tebow. 
Here's what happened next, per the school's self-report via Lesmerises:
Upon receiving the call, Coach Meyer informed Garrett that he was on vacation and having lunch with friends and family, including Tim Tebow. Garrett asked Coach Meyer if he could wish Tebow good luck on the upcoming season. Coach Meyer handed the phone to Tebow and Garrett conversed with Tebow for approximately eight seconds. Coach Meyer stated that no recruiting conversation occurred, there was no intent to have Tebow recruit on behalf of Ohio State and he, in fact, did not recruit on behalf of Ohio State.
After Garrett tweeted about the phone call, Ohio State had no choice but to add it to the list:Clifton Garrett CG3™ @CG340 Follow
I just called Coach Meyer just ta see whats up and next thing you know I was talking on the phone to TIM TEBOW!!! #InShockRightNow #Insane!
As Lesmerises points out, Ohio State reported 42 secondary NCAA violations spanning all sports during 2013. The count is similar to those of past years and shouldn't be considered alarming given the university's goal to crack down on anything and everything that could potentially be considered a violation.
Among the other football-related violations reported were assistant coach Tom Herman chewing tobacco in the coaches box during a game and a handful of pocket dials accidentally made by assistant coaches to potential recruits.
Although NCAA violations often land schools and teams in hot water, minor infractions like these provide a refreshing change of pace from what typically dominates the headlines during the offseason in college sports.
It remains to be seen how the NCAA will respond to Ohio State's self-reported secondary violations and what improvements the university will make in 2014. But for now, it's clear that the potential punishment for serious violations has led schools and athletic programs down an honest path.