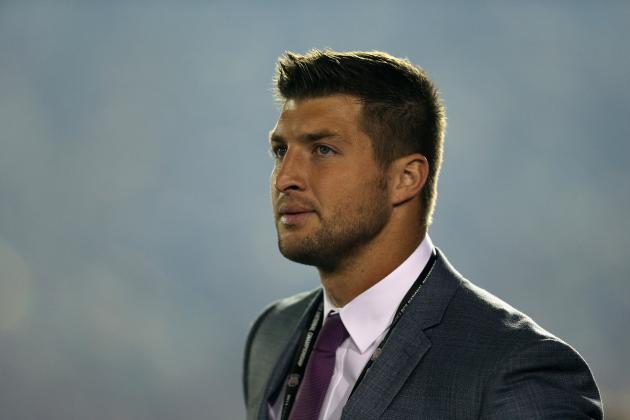 Jeff Gross/Getty Images
The NFL calendar has been flipped to the dawn of a new year, and that leaves many players (free agents) without jobs—temporarily—and opens the door for rookies to realize their NFL dreams. But there is one free agent who is still looking to achieve his goals: Tim Tebow.
The most polarizing name in the sports journalism business.
Does Tim Tebow deserve a chance as an NFL QB?
What is in store for Tebow before the 2014 NFL season starts up? There's one thing we know for sure: We'll be seeing plenty of him on television.
Tebow joined ESPN as an analyst for the SEC Network, with his main responsibilities being SEC Nation—a traveling pregame show that will debut in Columbia, S.C. on Aug. 28 before Texas A&M takes on South Carolina.
Here is his ESPN debut in the pregame coverage of the last BCS National Championship Game—something he knows a little bit about:
This new job might bring joy to Tebow haters and despair to Tebow lovers, as it should signal the end of the Florida product's NFL career. But not so fast. Tebow was very clear that he still wants to pursue his professional dreams, according to a statement he released through ESPN:
I am so excited that ESPN has given me this incredible opportunity. When I was 6 years old, I fell in love with the game of football, and while I continue to pursue my dream of playing quarterback in the NFL, this is an amazing opportunity to be part of the unparalleled passion of college football and the SEC.
Tebow still wants to play football in addition to covering it—the gridiron equivalent of having your cake and shoveling it down your gullet too.
But how realistic are those aspirations?
Eric Allen is a man who has experienced both sides of that particular coin—though not at the same time—and he doesn't think it's realistic for Tebow to truly be prepared for an NFL team while gallivanting across the nation and participating in ESPN-sponsored tailgating events.
Nevertheless, Tebow has never been one to do things conventionally, and he is very serious about getting another shot in the NFL.
According to the Associated Press (h/t ESPN), Tebow declared that he still trains five days a week, working on the craft of being a professional gunslinger.
I feel like I'm the best that I've ever been as a quarterback right now. I hope I get the opportunity to show that.

I'm not sure what's ahead of me. I'm very excited to have this opportunity at ESPN, but who knows what the next few months will hold?
ESPN gave us an inside look at that training regimen, and it looks impressive, to say the least:
Whatever your feelings are on Tebow as an NFL prospect, you can't help but marvel at his work ethic and drive, as he refuses to let go of his dream.
Unfortunately, all his hard work will be for naught.
The former Heisman winner will be 27 years old by the time the 2014 NFL season kicks off, so he'll need to demonstrate serious progression in his mechanics and accuracy to pique the interest of an organization. Furthermore, QB-needy teams will have the chance to look to the draft to address their hole at the position. On the other hand, the 2014 quarterback class isn't very deep, with only a few players who could start from day one:
2014 QB-Needy Teams and Prospects

| | |
| --- | --- |
| Team | Player |
| Houston Texans | Teddy Bridgewater |
| Cleveland Browns | Blake Bortles |
| Jacksonville Jaguars | Johnny Manziel |
| Oakland Raiders | Derek Carr |
| Minnesota Vikings | Jimmy Garoppolo |
| Tennessee Titans | Zach Mettenberger |
| New York Jets | A.J. McCarron |
CBSSports.com
With as many as seven NFL teams definitely looking for a new quarterback (to provide competition, at the very least), there will be a market for NFL-caliber passers.
Whether Tebow's hard work has elevated him into that category remains to be seen, however.
That brings us to door No. 3 for Tebow's professional pursuits: What about acting? Based on his Super Bowl commercial, we may have to prepare ourselves to watch Tebow on the big screen.
Tebow's future is so up in the air that the possibilities are endless.
We can say two things for sure about Tebow's upcoming offseason. First, he is not going to quit on his NFL dream—not yet anyway. Secondly, we're going to be seeing a lot of Tebow's face on our TVs.