Tim Tebow was confident, poised, knowledgeable, accurate and comfortable in his first appearance as a college football analyst with ESPN. In his NFL career, perhaps only the first trait would have ever been used to describe him as a professional quarterback.
On Monday, Jan. 6, he sat on a panel with former Notre Dame and South Carolina head coach Lou Holtz, longtime analyst and former NFL player Mark May and host Rece Davis. The foursome broke down the matchup between the Florida State Seminoles and Auburn Tigers for the BCS championship.
Tebow more than held his own.
While he maintains he is still pursuing his dream to again be an NFL quarterback, it seems it would be much easier for him to be elite at his new job.
I am so excited that ESPN has given me this incredible opportunity. When I was six years old I fell in love with the game of football and…
…while I continue to pursue my dream of playing quarterback in the NFL, this is an amazing opportunity to be a part of…
He'll be working with the new ESPN/SEC network due to launch in August. The contract has an out should an NFL team show interest in him, per Chase Goodbread of NFL.com.
Tebow wouldn't be himself if he weren't stubborn. That's part of what has made him one of the most polarizing athletes in the last 10 years. It's also the reason why it's not smart to think he won't one day attain his goal—even if it doesn't last long or turn into a storybook ending.
No matter how many jokes are made about his abilities, or the number of NFL doors that get slammed in his face, he will not give up until he has decided the journey is over. Even the biggest Tebow detractor has to respect that quality.
Gaining acceptance as an analyst isn't likely to be as difficult as it has been in the NFL.
Tebow may not be a natural under center, but he's definitely the prototype on camera.
The Look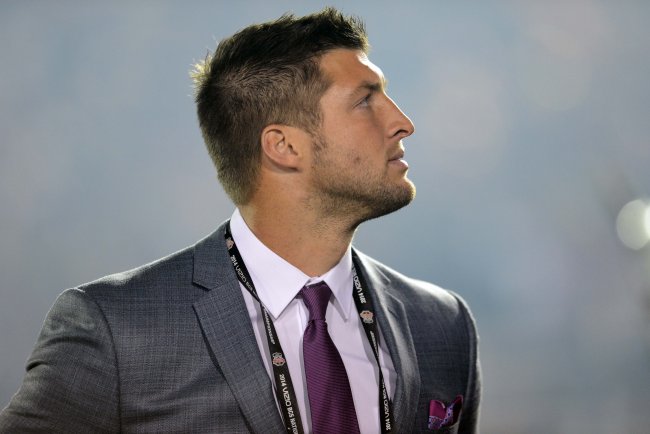 Jayne Kamin-Oncea-USA TODAY Spor
His throwing motion and overall mechanics have always been a concern. You may have never seen a guy do as much wrong fundamentally as Tebow during his stints with the Denver Broncos and New York Jets.
On ESPN, Tebow's analytical fundamentals were on point. Everything about him looks like a football analyst.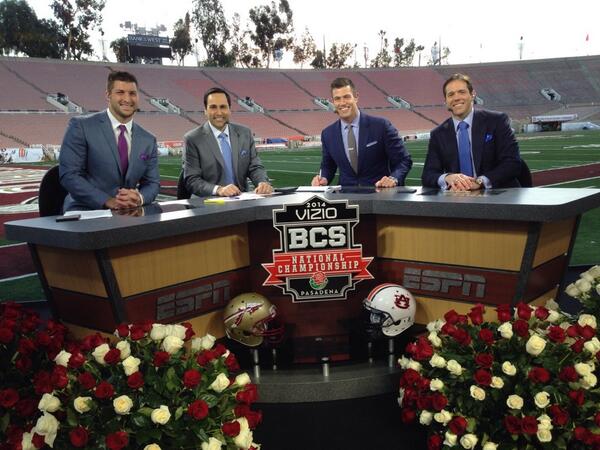 If Kirk Herbstreit and Keith Jackson had a baby, it would have looked like Tebow on Monday night—figuratively speaking of course.
Tebow's posture was sharp, he spoke clearly and confidently, and he demonstrated his charismatic personality while on camera. All of these traits made him look like a natural.
Hard Work
Make no mistake about it, Tebow is a natural hard worker. Former teammate and current Denver Broncos cornerback Champ Bailey said this to Bill Williamson of ESPN.com about Tebow in 2010:
See that? That's Tebow. It's long after practice and he's still out there. That's what he does. That's not for show. He's not just doing that because the media is here today. He does that every day.
That type of effort doesn't just go away, and it's usually not isolated to one thing a person does. When people have a great work ethic, it tends to follow them to every endeavor they attempt.
Whatever Tebow doesn't have that is required to become a solid analyst, you can bet he'll attain it if he decides that's what he wants to do.
Authority on the Subject
If you listen to the analysis Tebow gave during the broadcast, it was clear he had done his homework. He made specific references to both teams' personnel, play-calling tendencies and position heading into the game.
Per Goodbread, Tebow made the following relevant comments before the game.
On Jameis Winston's weaknesses:
You don't go into this game trying to stop him, you go in trying to control him. The two teams that have done that the best this year are Duke and Boston College. What they (did) was have multiple fronts, multiple blitzes and multiple coverages.

One thing that's interesting in breaking down all his games — this isn't really a weakness, but it's just a few plays he hasn't been good at — is when he's been throwing interior routes. Benders, in cuts, digs, shallow crosses, when he's been throwing it inside, is when I feel he's struggled the most, and when a team has played multiple fronts, blitzes and coverage.
On Auburn's run game:
They only run a few plays, but they run them from a lot of different formations, and they disguise them very well. They run counter, they run power, they run jet sweep and they run inside zone. They've done those plays thousands and thousands of times.

So when you're coming into a game with a lot of pressure, a lot of hype, a lot of nerves, it's easy to do something you've done (a lot), rather than going into a game with a lot of adjustments and a lot of new plays. That's why I think they'll come out playing fast.
Aside from the relevance and accuracy of his analysis, Tebow also has his own success to fall back on.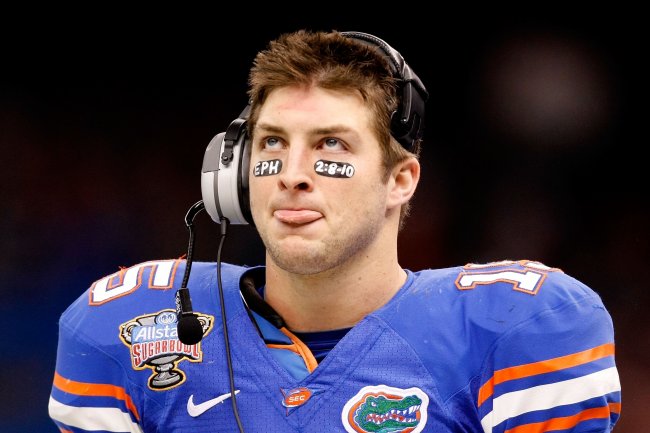 Kevin C. Cox/Getty Images
Even a person who doesn't give any credence to Tebow's limited success in the NFL has to acknowledge his greatness on the college gridiron. He won a Heisman Trophy in 2007 and was in the running in 2008 and 2009.
He's completely validated and qualified to talk about college football. His resume at that level of the sport speaks for itself. If it didn't, his analysis on Monday filled in any gaps.
When asked to pick the score of the BCS title game, Tebow was only one point off the real-life final score. Tebow predicted a 35-31 Florida State win; the Noles won 34-31.
Humility
People love to watch analysts who come off as pompous, but they also love to hate them. At some point that can get a bit boring.
Through all the attention, Tebow has never appeared to take himself too seriously. This is key to being accepted as a television personality and as a colleague. 
Tebow said this to Eboni Graham of Amarillo.com: 
"My parents made me memorize every Bible verse on humility. My father had a huge impact on my life because of what he showed me."
Skeptics may say Tebow isn't as humble as he lets on. Former teammate Brady Quinn alluded to that notion. However, he came off more like a hater than an impartial observer, especially since Tebow had passed him on the Broncos' depth chart.
At any rate, all this lends itself to one thought: The dude is just likable.
Amicability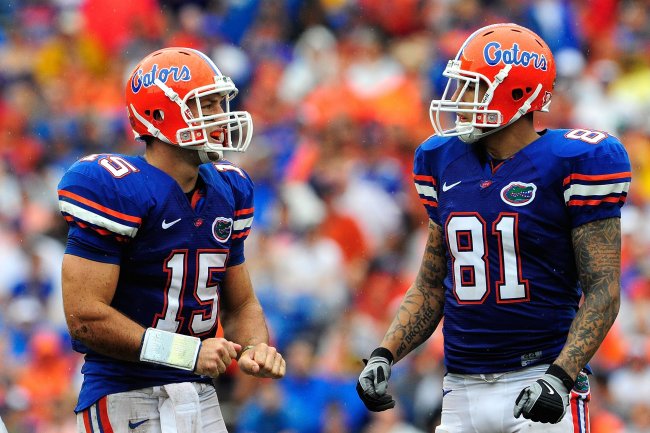 Sam Greenwood/Getty Images
Clark Judge of CBS Sports said this of Tebow:
I understand why Tim Tebow is easy to like. He works hard to overcome his limitations, plays hard to overcome his opponents and is a natural leader. What I don't understand is why he's easy to dislike.
There will always be haters. The more you shine, the more people will want to tear you down. Just imagine how many people have probably schemed to stain Tebow's name between now and when he first rose to national prominence.
There are thousands that would rejoice in seeing him fall off his pedestal of purity. Some even have constructive criticism about Tebow's ability as an analyst. One example is former NFL player and current NFL Network analyst Jamie Dukes, who says he's not sure about Tebow's chances of being a good analyst.
Dukes thinks Tebow is a bit too positive and may lack the gumption to be critical of poor play. Check out the interview with TMZ Sports:
Even with critics around every corner and with varied motivations, you don't see Tebow delivering angry, frustrated rants. You're liable to see him hanging out with anybody. Check out this tweet with Tebow and MMA fighter Brendan Schaub: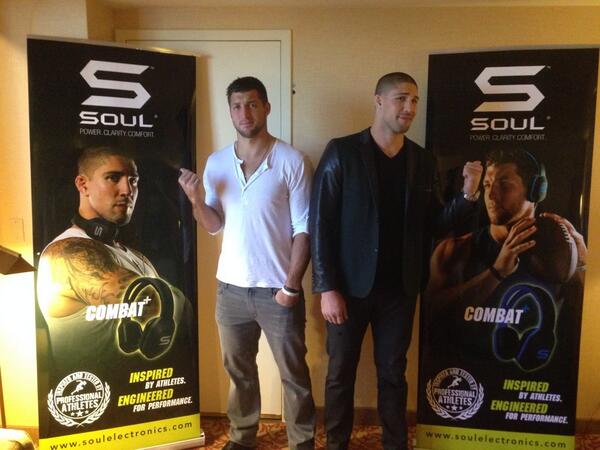 That seems like an odd pair, but Tebow appears to have the ability to blend with just about any crowd. He was also seen kicking it with Heisman Trophy winner and NFL hopeful Johnny Manziel. Keri Potts of ESPN captured the two polar opposites on the sidelines at the BCS title game:
That ability to relate to athletes is valuable as an analyst and TV sports personality. If he wanted to, he could get answers in interviews with athletes that less-trusted journalists might not attain.
While it would be great to see Tebow attain his goal and sign on for a legitimate shot to play quarterback in the NFL, there is no doubt he could reach the top of his field in his temporary job.