By Steven Cook , Featured Columnist
David J. Phillip/Associated Press
ESPN's hiring of Tim Tebow was seen by some as the end of the polarizing figure's pursuit of playing in the NFL. But it could end up being a perfect springboard for him to get his next shot.
The popular sports media network announced its hiring of Tebow on Dec. 30 in a press release, as a college football analyst for the SEC Network this fall.
As ESPN's release stated, Tebow's primary role in the company will be to serve as an analyst for SEC Nation, a show that will travel to a different conference campus each weekend. He will also appear regularly with ESPN Radio and SportsCenter. 
But it's no secret that Tebow will be on television whenever he wants to—whether that is often or hardly at all.
Tebow's relentlessness to get another shot at playing quarterback in the NFL has been proven by his undying efforts despite consensus public opinion being against him. He's shunned position changes and opportunities in other leagues to continue pursuing that shot.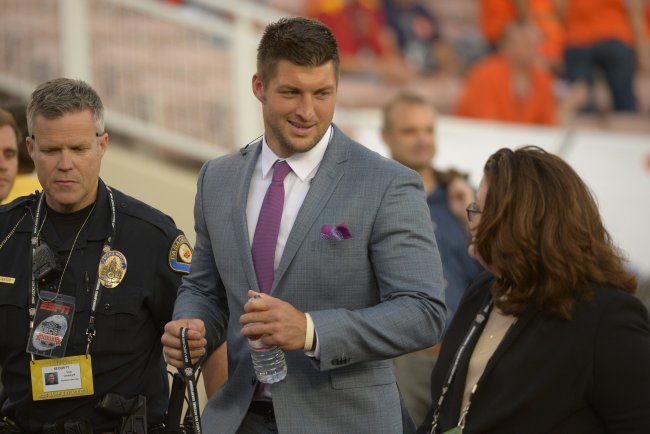 Mark J. Terrill/Associated Press
Being on TV for a couple of minutes at a time won't keep Tebow from training as much as he needs to if he is really intent on getting back into the league. 
Plus, if this was supposed to be the farewell NFL moment that many are hyping it up to be, why would the last line of ESPN's release read as follows?:
"Tebow's role with ESPN will not preclude him from continuing to pursue playing opportunities in the NFL," the report stated. 
It's not hard to figure out that Tebow's camp, not ESPN, insisted on that part being included. 
It will, however, keep him relevant in this age of sports media that revolves so heavily on four letters—ESPN. Tebow has always been a hot topic on the network, but now will be promoted in the manner that he prefers.
For instance, this interesting SportsCenter feature on Tebow that ESPN aired around the same time as his network debut:
 Tebow used to be a debate topic all in his own for ESPN, as talking heads like Skip Bayless and Stephen A. Smith pondered his ability to play at the top level. Now, he's a promotion tool for ESPN as they are using his joining the network as a chance to better document his road back to the NFL. 
Plus, he will largely only be promoted to do what Tebow can do better than almost anyone—brag about his college football success. 
But when it comes down to it, Tebow joining ESPN is a great way for him to keep his name out there. And in a good way, considering the sorts of ways they are featuring him now. 
Tebow is 26, and while his playing days are far from used up, the last thing he needs right now is to fall out of the public eye. At ESPN, he can promote himself practically with a snap of his finger and stay as relevant as he chooses. 
Being at ESPN allows him to stay at the forefront of the sports world, and shamelessly milking his relevance is his best bet at landing another job in the NFL ranks.