Ed Mulholland-USA TODAY Sports
New York Knicks forward Metta World Peace is an ever-interesting personality who isn't afraid to drop his opinion on Twitter about whatever is on his mind.  
On Monday, Jan. 6, the 34-year-old veteran came to the defense of another polarizing, high-profile athlete: Tim Tebow.
World Peace guaranteed that Tebow "will win a Championship in the NFL" and lamented the fact that the quarterback didn't get more time on the field in his one-year stint with the New York Jets:
Tebow will win a Championship in the NFL. Guaranteed!!
im actually upset that i have a tebow jersey and never had a chance to brag(Jets)
It seems World Peace means Tebow will win a Super Bowl, unless he's keeping the "championship" objective ambiguous in the event that it doesn't work out.
Nevertheless, perhaps World Peace has a point with regard to Tebow getting more of a chance to showcase his skills in the Big Apple, because Jets quarterbacks haven't fared all too well in recent years.
Mark Sanchez's last season as a starter was in 2012, when he posted a 66.9 passer rating. Geno Smith's rookie campaign in 2013 netted a 66.5 rating, and both Sanchez and Smith threw more interceptions than touchdowns. 
Tebow's only extended action for the Denver Broncos in 2011 resulted in a 72.9 passer rating and less accuracy but fewer picks.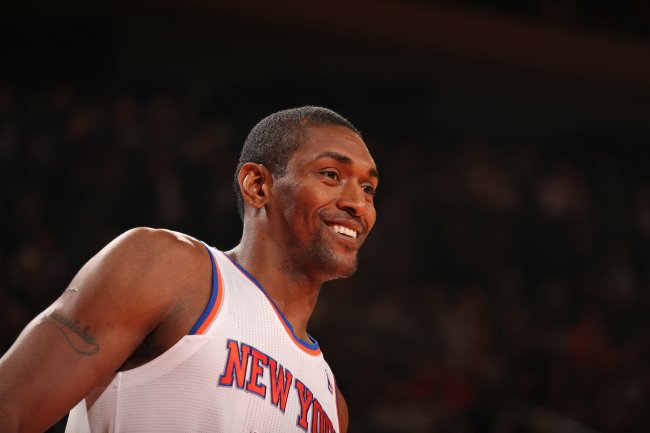 Nathaniel S. Butler/Getty Images
According to a Jan. 3 report by the Wall Street Journal's Chris Herring, World Peace tweeted 67 times in less than 24 hours, so this out-of-left-field Tebow endorsement can't come as too much of a surprise.
How will Tim Tebow's affiliation with football play out in the next year?
He will continue working as an ESPN analyst.

Another NFL team will give him a shot.

Tebow will play professionally elsewhere.
The Tebow saga had been put to rest for quite some time with regard to whether he could be a viable NFL quarterback. For whatever reason, as the new year has gotten underway, the discussion has picked up steam yet again—whether it's merited or not.
Tebow is back in the public eye as a television analyst for ESPN and made his debut at 10 a.m. on Monday, according to Chris Chase of USA Today.
However, at the ripe age of 26, the former first-round draft choice still hasn't given up his dream to continue on as a player and is still training five days a week in the hopes of getting another shot in the pros.
"I feel like I'm the best that I've ever been as a quarterback right now, and I hope I get the opportunity to show that," said Tebow, per NFL.com's Mike Huguenin on Dec. 31.
ESPN First Take personality Skip Bayless also rekindled his insatiable desire to debate everything Tebow, citing former NFL QB Trent Dilfer's opinion that Tebow is now a good enough passer to cut it:
Stephen A also hot to debate Trent Dilfer's view that Tebow is now ready to be a starting NFL QB as a passer. Don't miss this.
Bayless is also the same man who doubted the "It Factor" of current Indianapolis Colts QB Andrew Luck before he was selected with the No. 1 overall pick in the 2012 draft, asserting that Tebow had more of whatever "it" was.
Oops.
Proponents would argue that Tebow has strong intangibles and would be a good teammate, but his huge personality brings a lot of media attention wherever he goes. When he got a chance to make the New England Patriots this past preseason, that circus was squashed, but Tebow was released based on uneven performances.
Tebow first needs to get another shot with an NFL team to meet Metta World Peace's prognostication of epic glory. So far, he hasn't had an organization offer him anything.
But given the magic Tebow pulled off in guiding the Broncos to a playoff win following the 2011 season, some will never give up hope that "Tebowmania" will return.