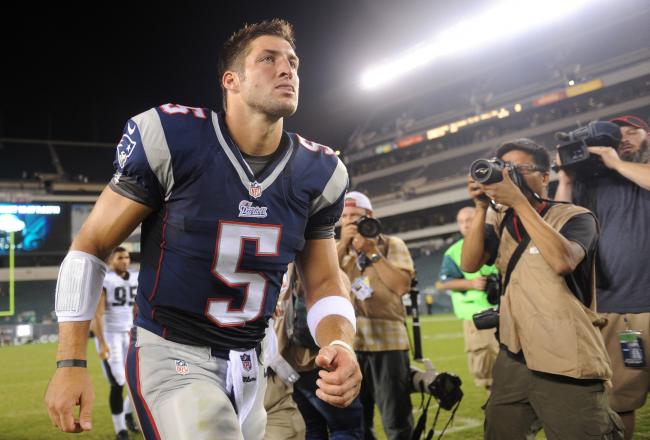 Joe Camporeale-USA TODAY Sports
Demand for Tim Tebow within the media has always far outweighed demand for him in the NFL. With the prospects of Tebow resuming his career as an NFL quarterback looking bleak at best, Tebow would be wise to explore a medium that is dying to have him. That medium is television.
According to Liz Mullen of Sports Business Journal, Tebow recently signed with Creative Artists Agency, which suggests that he may be ready to enter the next phase of his career:
 Tebow has yet to comment on the reasoning behind joining forces with CAA, but NFL Network's Ian Rapoport is reporting that Tebow could become a college football analyst:
 That may not be an ideal decision for Tebow or his fans, but it's time to come to grips with the fact that NFL teams simply aren't interested. Tebow enjoyed a magical run with the Denver Broncos that saw him lead them to a playoff victory over the Pittsburgh Steelers, but his stock was utterly destroyed by the New York Jets and New England Patriots.
Perhaps Tebow could be a competent backup quarterback or gadget player for some team in the league, but it isn't worth it for a team to gamble on him. Due to the immense amount of media coverage that Tebow commands, there would always be talk about him supplanting the starting quarterback on any team he plays for.
NFL teams don't need or want that type of distraction, so the best course of action for them is to leave Tebow untouched. It's unfortunate for Tebow since he obviously loves the sport and is a great leader, but doors will always be open for someone with his insane level of popularity.
After his release from the Pats in August, Tebow wasn't shy about letting the world know that he intended to continue playing quarterback in the NFL, but that simply hasn't worked out:
 No tears should be shed for Tebow, though, because he is in line to become one of the richest analysts in the business. Signing Tebow as a college football analyst would lead to a ton of publicity for whichever network is able to land him, and it can be argued that bringing him in would be just as lucrative as striking a big television deal with a major conference.
If and when Tebow trades in his helmet and jersey for a suit and tie, curious football fans will make a mad dash toward their remote controls in order to hear what he has to say and see how well he makes the transition.
Once Tebow is deemed "TV ready," expect CBS, ABC and Fox to be among his top suitors. Due to ABC's relationship with ESPN and ESPN's strong deal with the SEC, ABC may very well have the inside track.
Should Tim Tebow ditch his NFL aspirations in favor of a TV career?
Yes, no NFL teams are interested, and there is a lot of money to be made as an analyst.

No, he is a football player first and foremost, and he should exhaust all of his options in that area.
Tebow was a superstar, Heisman Trophy-winning quarterback for the Florida Gators in college, so it would only be natural to put him in position to talk about the SEC as much as possible. With that said, college football fans will also be interested to hear what Tebow has to say about former Florida head coach Urban Meyer, who has led Ohio State to a quick and seamless turnaround in the Big Ten.
Tebow would certainly be a great fit on ESPN alongside the contrasting personalities of Lee Corso and Kirk Herbstreit on College GameDay. At the same time, Fox has gone to great lengths to improve its college football coverage, especially since the launch of Fox Sports 1, so Tebow would be an incredible acquisition.
No matter how you slice it, Tebow's stock as an analyst will be in stark contrast to his stock as a quarterback. There were plenty of question marks surrounding Tebow's ability to translate to the NFL coming out of Florida, but few could have predicted that people would be more willing to pay Tebow to talk about football rather than play it in 2013.
Tebow's future in football may not involve competing on the field, but if and when he ultimately announces his intention to do some television work, he'll suddenly be the hottest free agent in the business.
Follow @MikeChiari on Twitter