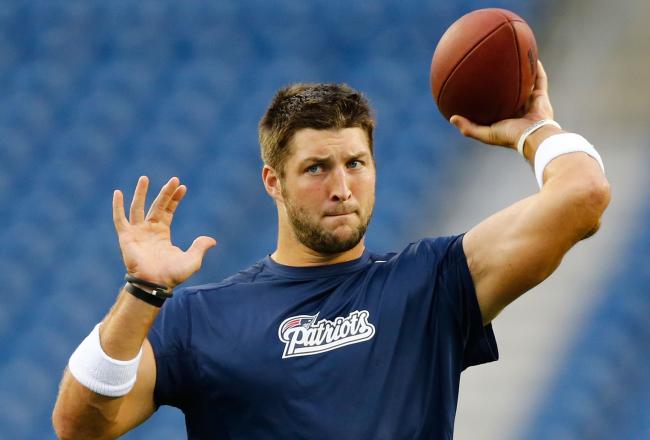 Tim Tebow has all of the intangibles, but none of the skills of an NFL quarterback.
Jared Wickerham/Getty Images
Tim Tebow has made it clear that he wants to be an NFL quarterback. He has resisted overtures from the AFL and requests to change positions. But his phone hasn't rung with a general manager on the other end presenting an opportunity. Perhaps there will be a team in the near future that wants to give him a shot, but Tebow shouldn't get the chance to play quarterback in the National Football League.
He's one of the most fascinating and polarizing athletes ever. The fact that he is still at the forefront of the sports world's consciousness speaks volumes about the effect that "Tebow-mania" has had.
Just last week, a billboard popped up in Florida urging the Jacksonville Jaguars to sign Tim Tebow, promising that the stadium would be filled as a result.
Eye on Football        ✔ @EyeOnNFL
Someone in Jacksonville paid actual money for a billboard asking Jaguars owner Shad Khan to sign Tim Tebow: http://cbsprt.co/16vtwBW
Financially speaking, Tebow would be a gold mine for a foundering franchise like the Jaguars with a quarterback situation that is already messy.
But on the gridiron itself? It's not worth the trouble.
The NFL has evolved to become a league where passing rules all. Nothing can cover up your deficiencies like a competent quarterback. There is no position that has a greater impact on the standings than the man under center (or in the shotgun, as it may be).
Teams without an established signal-caller lounge in mediocrity as they try to find their franchise quarterback. Just look at all the quarterbacks that have suited up for the Cleveland Browns in recent history.
But while it may be tempting to take a chance on a quarterback who led the Denver Broncos to a miraculous playoff appearance just two years ago, you would be missing the obvious signs that Tebow isn't an NFL quarterback.
In 2011, Tebow actually had a higher QB rating than six other signal-callers, including three who were starters this year.
Worst QBs in 2011

| | | | |
| --- | --- | --- | --- |
| Rank | Player | Passer Rating | Completion Percentage |
| 32 | Tim Tebow | 72.9 | 46.5 |
| 33 | Rec Grossman | 72.4 | 57.9 |
| 34 | Sam Bradford | 70.3 | 53.4 |
| 35 | Christian Ponder | 70.1 | 54.3 |
| 36 | John Skelton | 68.9 | 54.9 |
| 37 | Curtis Painter | 66.6 | 54.3 |
| 38 | Blaine Gabbert | 65.3 | 50.8 |
ProFootballFocus.com
So why do those quarterbacks still have jobs while Tebow is facing a harsh market for his talents? Because he's missing the most important skill of professional quarterback: the ability to pass the ball.
 Matt Miller        ✔ @nfldraftscout
He can't accurately throw a football. RT @Still_Legendary: What are the real reasons why Tebow isn't in the league right now?
 He completed less than 50 percent of his passes during that magical run in 2011, while averaging 6.38 yards per attempt and an interception every two touchdowns.
Tebow was the slowest quarterback to get from snap to pass attempt that year, clocking in at 3.34 seconds according to ProFootballFocus (subscription required). No other quarterback had an average higher than three seconds.
 His poor mechanics and slow release make him an inaccurate passer. The word out of the New England Patriots training camp this year was that Tebow's mechanics were much better, according to the NY Daily News.
Apparently they still weren't good enough to warrant a roster spot.
All of his supporters refer to his record in Denver as a primary reason why he deserves another chance. That stretch was indeed impressive, and nobody can take that away from him.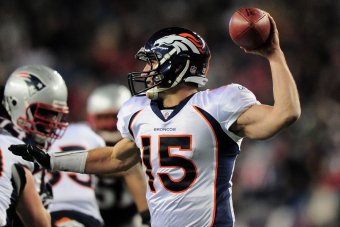 Michael Ivins-USA TODAY Sports
Tebow led the Broncos on a magical run to the postseason.
Teams cannot question his intangibles or desire to win, but they are right to be wary of how those wins came to pass. Head coach John Fox and offensive coordinator Mike McCoy had to change their entire offensive scheme to revolve around Tebow, the rushing attack and the read-option.
In this type of system, Tebow was able to win games, just like he did in college. But for a team to take a chance on signing him right now, they'd need to revamp their entire offensive scheme to fit his skill set.
All of these flaws on the field add up, but the biggest reason for teams to not gamble on Tebow comes off the field. Normally, off-field concerns in the NFL speak to troubling character traits and legal troubles, but in Tebow's case it's quite the opposite.
The media frenzy that he generates, even right now when he doesn't have a team, is insane. Willie Colon believes that the Tebow circus held the New York Jets back last year, according to ESPN's Rich Cimini. Colon said:
I think having the Tim Tebow circus out of here, and having different things that were kind of holding this team back, are starting to go out the window. I think we're all starting to care about football and only football, which is a good sight to see.
While most of the Jets' problems were the result of Mark Sanchez's performance, the Tebow subplot hovered over the head of head coach Rex Ryan all season.
After a spate of injuries to starting quarterbacks this year, Tim Tebow didn't get a call.
The explanation for that is a combination of all of these reasons, but his stubbornness and determination may have been the biggest one.
Peter King of Sports Illustrated reported that a team's inquiry into Tebow ended after he refused to change position. Likewise, he turned down an offer to play in the Arena Football League.
Tebow will go down as one of the greatest college quarterbacks in history, but the combination of negative factors means that he shouldn't get the opportunity to continue his legacy in the NFL.