November, 13, 2013
Nov 13
9:50
PM ET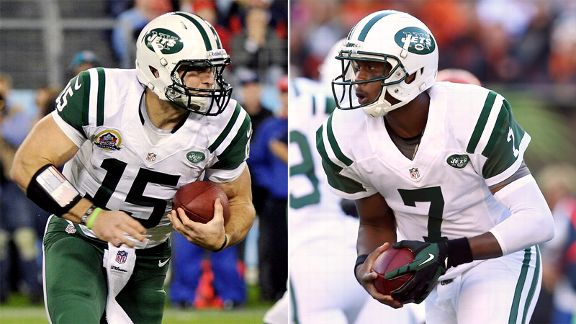 Getty ImagesThe Jets' offense has featured the Wildcat and zone-read elements, without the Tim Tebow circus.
FLORHAM PARK, N.J. — One year after the over-hyped and ill-fated Tim Tebow experiment, the New York Jets finally have it figured out. They've successfully incorporated the Wildcat and zone-read elements into their offense.
It's amazing what you can accomplish when you have the right person calling the plays and the right people executing them — strange and radical concepts, indeed.
The surprising Jets (5-4) are in the playoff hunt, in part, because they've kept defenses off-balance with their change-of-pace rushing attack. Ironically, they've managed to do it in relative anonymity, sans the crush of national media. Without Tebow, it's almost as if nobody cares.
A year ago, Rex Ryan was questioned about Tebow and the Wildcat on a daily basis. That he made it through the season without losing his cool (or turning sideways) was a tribute to his patience. This year, the topic rarely comes up even though they're using the zone-read and Wildcat twice as often as in 2012.
[+] Enlarge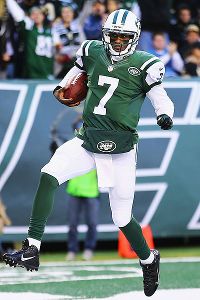 Al Bello/Getty ImagesGeno Smith has scored three rushing touchdowns this season.
Twice!
And more effectively.
Not only have the wrinkles sparked the offense, but they've helped Geno Smith through a difficult stretch of season. His most accomplished pass-catchers, Santonio Holmes and Kellen Winslow, were gone for a month, prompting the coaches to install more designed running plays for the rookie quarterback. He's no Colin Kaepernick, but Smith is a capable runner. He's the Jets' most mobile quarterback since Ray Lucas, circa 1999.
"I never said I was a pocket passer," Smith said Wednesday. "I'm effective from the pocket, but I can run as well. That's kind of the point I've been trying to push all along, that I'm not a quarterback you can put in a box. I do it all and I try to perfect every single thing, even running the ball."
Smith, displaying unwavering confidence for someone who has thrown 13 interceptions, described himself as a player with "a tremendous skill set. I think I can be one of the better quarterbacks in this league, but it's going to take time and effort."
Lately, he has been better with his legs than his arm. In the Jets' last game, their upset of the New Orleans Saints, he scored on a 3-yard run — a designed play off a zone-read. For the season, Smith has rushed 11 times for 48 yards on zone-read plays, according to ESPN Stats & Information.
As a team, the Jets have run 46 zone-read plays and another 23 out of the Wildcat. The combined production is 30 yards per game. (Keep in mind that some zone-read plays can come out of the Wildcat.) In 2012, the respective season totals were 40 and 19, averaging a total of 18 yards per game.
Last season wouldn't have been so bad if the Jets didn't shamelessly promote Tebow and his potential impact, but they sold it with more passion than a used-car salesman. On the rare occasions when they used Tebow, it usually was a dive play into the line. They fattened him up and tried to turn him into Larry Csonka. The whole thing was a sham, perpetrated by an organization desperate for attention.
Now they run it with creativity and precision, along with proper use of personnel. Running backs Bilal Powell and Chris Ivory also have been used on zone-read plays; in fact, Ivory is averaging 7.4 yards per carry, second only to Oakland Raiders quarterback Terrelle Pryor (8.2) on such plays, per ESPN Stats & Information.
Tebow's Top 10
Tim Tebow's days in a Jets uniform
are over. Look back on his Big Apple experience.
Tebow's Top 10

The Jets have melded quarterbacks coach David Lee's Wildcat and zone-read concepts into Marty Mornhinweg's offense, becoming what they were supposed to be last season.
"They do a lot of unique things," said former Jets safety Jim Leonhard, who will face his old team Sunday as a member of the Buffalo Bills. "They do a lot to make you think. That's nothing new. They've done it all year, and we definitely have to stay on top of our adjustments."
Smith's mobility adds a different dimension to the offense. He already has scored a team-high three touchdowns (two designed rushes and one scramble), meaning he already has reached the end zone three more times than Tebow, who never got a chance to do any Tebowing.
Coaches and teammates, namely backup quarterback David Garrard, have encouraged Smith to run more often. He wasn't a big runner at West Virginia, so this is a transition. He already has rushed for 172 yards, well past Mark Sanchez's career high.
"We've been running the ball well, and we've been doing a pretty good job on the read plays," Smith said. "We've tried to stick with the things we're good at, and that's one of them."
It's funny, but Smith was chided for his touchdown run against the Saints. Based on the way it was defended, he should've handed the ball to Ivory. The result was six points, but he still heard the criticism.