Tim Tebow hasn't been spotted on radio or television for weeks. He's done no interviews. He's just about disappeared from Twitter. There have been sporadic sightings, mentions on TMZ and blips across various social media, but he is talked about in the same way people swear they saw Tupac in Vegas. Tebow has practically removed his electronic footprint. He's gone dark. Or rogue. Or darkly rogue.
I set out to find him. Tebow was out there. Somewhere. He was going to get got by me, the way the Catfish dude always finds the girl posing as a guy posing as a girl who is really a centaur.
Will Tim Tebow return to the NFL?
Yes, and he'll be a star.

Yes, and he'll be awful.

Yes, but not at QB.

No, of course not.
In trying to find Tebow, in speaking to people close to him, as well as NFL team officials, one fact became clear: Tebow has not given up on his NFL dream. He wants a return badly to professional football, and all of his training now is done to stay in shape should that call come. And Tebow believes that call will come.
"He still truly believes he can play and compete at the NFL level," said close friend David Nelson, who played with Tebow at Florida and is now with the Jets. "I talked to him a few weeks ago. He's still in shape. He's ready to go."
Tebow is that rare event in sports. He became one of the most popular players in the history of the NFL, then he mostly disappeared, doing so suddenly. We've rarely seen a player of his star power simply fall off the face of the football earth while trying to get back into the sport that evicted him. This is what makes Tebow's story so unique.
My search to locate him started with another person extremely close to Tebow, who provided phone numbers and emails to people in his camp. Not sure why, but this felt very top secret-y, like I was being given the nuke codes. 
So I grabbed my laptop and my allergy meds, and on the great hunt I went.
The calls and emails went out. The assistant for Tebow's agent said she'd pass along my request to speak with Tim. (Yes, I said Tim, because you're always on a first-name basis with your prey.) She seemed highly amused that I was even trying.
More calls, more emails. Began to feel the urge to do a little Tebowing. Meant I was close.
A clue to his whereabouts was posted on TMZ (of course it was), which had this photo of Tebow vacationing in Hawaii. Looks like he's in shape. And tan.
Then a Browns fan with the Twitter handle @SadnessFactory (of course it is) tweeted that Tebow was spotted at Cleveland's airport. Who knows if this was a serious tweet or a joke, but this is how it works with Tebow. There are sightings of him, like he's a Kardashian. Or swimming in Loch Ness.
Then the trail went cold. Tebow has again disappeared. If you see him, send the Tebow signal into the night sky. It's like the Bat Signal, except it's in the shape of Tim, Tebowing.
***
The issue of finding Tebow is written slightly tongue in cheek. The issue of what exactly lies in Tebow's future is not.
To some, there is Tebow fatigue. They see him as a marginal player who never deserved the attention he received. The truth is more complicated.
Tebow's popularity grew, in part, because he did some good things. He won a Heisman Trophy while at Florida and made the playoffs as a Denver Bronco. He carried himself with dignity even when being mocked for everything from his throwing motion to how he didn't deserve to be so popular.
Tebow did have faults. He couldn't throw with any sort of consistent accuracy. That throwing motion was awkward. He bounced from team to team. To Tebow's critics, he became more curiosity than talent, and there was genuine resentment over how he had become so well known despite accomplishing so little.
After he was released by the Patriots, the public appearances fell to a trickle. He continued to work out relentlessly, sometimes on the West Coast. He took a group picture with members of the USC Trojans lacrosse team: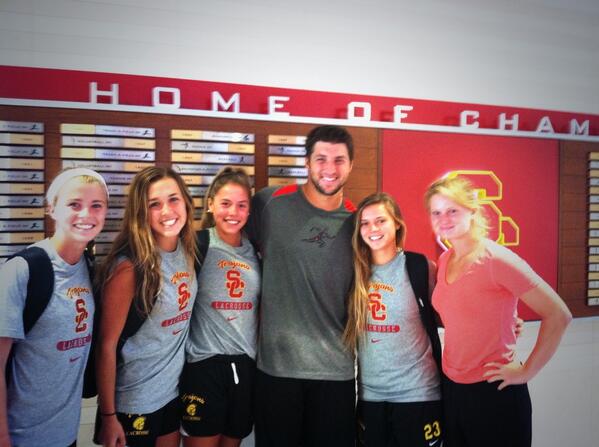 There were "rallies" for Tebow in Jacksonville urging the Jaguars to sign him. They refused. TMZ—yes, TMZ again—asked owner Shahid Khan if he wanted to sign Tebow. Khan chuckled, knowing how ridiculous the notion was.
Tebow has been the sports equivalent of a Hollywood star who was once bankable, then made Caddyshack II and left the movies in the most unceremonious of ways.
Again, this isn't about merit or skill, just popularity. Tebow's jersey was the league's most popular soon after he was drafted in 2010. Few players were talked about more—picked apart, debated, loved, disliked. 
That's what makes his absence from the public eye so odd. We have rarely, if ever, seen a player of his popularity just disappear like this. Jim Brown made movies after football. Brett Favre does Wrangler commercials. Joe Montana is everywhere. Dan Marino is an analyst. So is Ray Lewis. Former stars like Mike Ditka are television personalities.
Tebow, meanwhile, is in a self-induced exodus. I've been told he's received multiple offers from several television networks to be a college football analyst. So far, he's declined.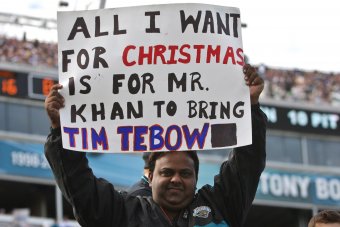 Rob Foldy-USA TODAY Sports
Since being released, there's been nothing but speculation on his future, with the occasional "Tim Tebow should sign with (insert team here)" story. Tebow remains a hot topic on NFL team message boards and TMZ (of course he is). Whenever a team loses a quarterback to injury, Tebow's name pops up. It's Pavlovian.
***
The phone rang.
It was Nelson. He caught Tebow's jump pass in the 2009 championship game against Oklahoma. They were supposed to work out together recently, but Nelson had to cancel when he was signed by the Jets.
"I'm obviously a Tim Tebow advocate," Nelson said. "I believe in him as a player and person. He brings so much to the game. The passion, the intelligence, the integrity—and people love to play with him."  
Why does Nelson think Tebow isn't playing?
"I wish I could put my GM hat on," Nelson said. "I think a big part of it, and this isn't Tim's fault, but he's a polarizing figure. GMs don't want that media attention.
"I can't speak for Tim, but I think he's going to keep pushing to get back into the NFL and not go to the CFL or Arena. I think Tim feels the same way I do. It's hard to play in the NFL the way he did, win in the playoffs, do big things and then take a step back and play in the CFL. That's a step down. I don't see him doing that."  
***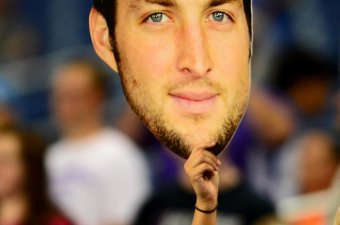 Andrew Weber-USA TODAY Sports
WWTD. What Will Tebow Do?
The answer is simple: He's waiting.
A source close to Tebow emphasized what others have been saying: "He wants back in the NFL. He's not going to the CFL. He's not going to Arena. There is no gimmicky stuff here. He wants back in the NFL, and he's going to keep working until he gets that chance."
There's no equivocating here. He's not going to do anything else. Tebow is waiting for another NFL shot. That's it. That is all. There is no other part to the story.
"Right now," the source said, "that's his biggest priority."
The problem for Tebow is the same as when he was released by New England. Teams, for now, aren't interested. That could change, but for the moment, Tebow isn't on their mind.
Tebow's betting that will change, which is why he works out relentlessly, I'm told. He hasn't thought extensively about much else.
Now, I think Tebow's NFL career is likely over, but if there is one thing I've learned about him, both in covering him and in pursuit of him, it's that underestimating Tebow is a mistake.
A big one.
***
I have not given up. I will talk to Tim Tebow. I won't stalk him. That would be weird. And illegal. But I will find you, Tim. One day. I will.
Hey, Tim, I want to meet you.
And this is crazy.
But here's my number.
So call me, maybe?
Mike Freeman covers the NFL for Bleacher Report.