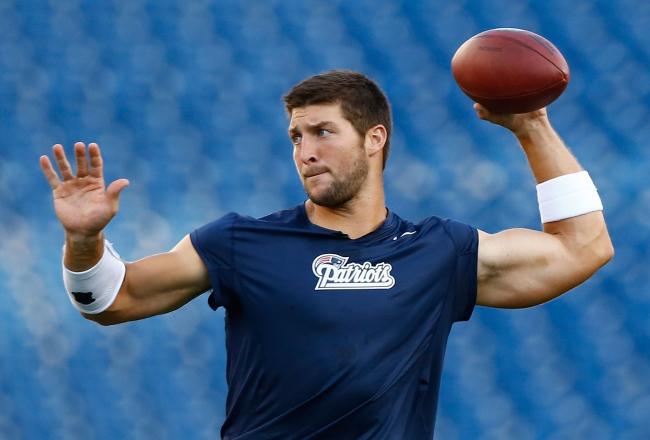 (Photo by Jared Wickerham/Getty Images)
Tim Tebow needs to find a football team and fast.
Simply put, he needs to play. He needs to get to a place where he can start, get reps and build confidence as a passer. Signing as a backup or practice roster quarterback with an NFL team isn't going to do him any good. 
He needs to be facing live action on a consistent basis. 
It may have been funny at the time, but the offer Tebow received from the Arena Football League's L.A. Kiss in September is just the opportunity he needs. 
Hey, Kurt Warner went to the AFL after the Green Bay Packers cut him in 1994 and it worked out alright for him. Warner led the St. Louis Rams to victory at Super Bowl XXXIV and was named Super Bowl MVP.
An opportunity to start in the AFL would allow Tebow to face live bullets and work on his passing game, which is undoubtedly his biggest flaw. 
Philadelphia Eagles quarterback Michael Vick will miss more playing time with a nagging hamstring injury, so Philadelphia might be Tebow's best and last NFL option. 
Could not get tweet oembed code for tweet 395602223000190976
Tebow could fit well in Chip Kelly's high-octane offense. We all know Tebow is more a runner than a passer, which could be beneficial in Kelly's system.
Nick Foles appeared to be the option in Philadelphia after completing 22 of 31 passes for 296 yards and three touchdowns in win over Tampa Bay. However, in the Eagles' loss to Dallas, Foles completed just 11 of 29 passes for 80 yards and left with a head injury.
Tebow has not played a down since being released by the New England Patriots on August 31.
At 26, and with just parts of three NFL seasons under his belt, Tebow isn't getting better by waiting for an NFL club to call.
Where will Tebow play next?
NFL

CFL

AFL
We're heading into Week 9 of the NFL schedule and Tim Tebow is still not on an active roster.
Multiple teams in need under center have already passed up a chance at signing Tebow. Most recently, the St. Louis Rams elected to sign Austin Davis and Brady Quinn over the former Gator.
Even if it was a joke, Brett Favre's name surfaced before Tebow's when Sam Bradford went down with a torn ACL. Favre is a 44-year-old grandfather who hasn't played in the league in three years.
Prior to the Rams situation, Minnesota elected to give Josh Freeman, who was released by the Tampa Bay Buccaneers, a look at competing for the starting job before calling Tebow.
The Buffalo Bills have decided to go with the Thad Lewis and Jeff Tuel in the wake of E.J. Manuel's knee injury rather than call Tebow.
There's always the Canadian Football League. The Montreal Alouettes hold Tebow's negotiating rights, but the CFL is known as a passing league, and one of Tebow's biggest deficiencies is his passing game.
Anthony Cavillo, the legendary Allouettes QB, went down with a concussion Aug. 17, but the Allouettes, never even called Tebow's representative, according to Montreal head coach and general manager Jim Popp.
If Philadelphia doesn't call, it's time to get Gene Simmons on the phone and see if that offer still stands because I don't see any other option.