WATCH HERE
Is The Season Over For Redskins?
ASHBURN, Va. — For the second consecutive week, Washington Redskins receiver Pierre Garcon said what he considers to be the truth about quarterback Robert Griffin III. And because of it, Garcon considers Griffin a different player.
"He's not fully healthy, obviously," Garcon said. "He's running a little bit more, but last year's RG III was a lot different from this year's because of the knee. It's not surprising. It's been talked about the whole offseason. It's the same question every day. We can find something else to talk about."
[+] Enlarge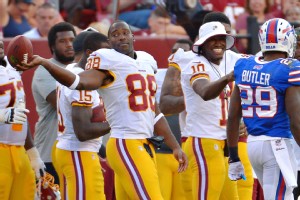 Ricky Carioti/Getty ImagesPierre Garcon, No. 88, says Robert Griffin III is a different player this season than he was in 2012 because of his knee.
With Griffin still regaining the explosiveness he showed last season, the Redskins' offense is not quite as scary. Defenses are daring him to run, focusing on stopping running back Alfred Morris on the ground and blitzing Griffin on third downs. In the Redskins' 27-20 loss Sunday to Detroit, the Lions didn't always blitz, and Griffin found one gap for a 21-yard gain late, only to fumble as he dove.
"I don't think he's 100 percent, but he's definitely giving 100 percent to get 100 percent," Garcon said. "He will eventually get there. I had injuries last year. I know what he's going through. It's not surprising, but it's just something you have to deal with.
"When you win you never talk about anything bad, but when you lose everything gets magnified. He's coming off an ACL injury, which we all know is tough. If we were winning, we wouldn't be talking about his knee."
In the preseason, Garcon said, "We have the potential to be the best offense ever, really." But after three games the Redskins have just 53 points (the defense has accounted for 14) and rank 19th in points per game. They're fifth in yards gained but have only one touchdown in the first half.
"We have the potential," Garcon said. "We have the players. It's just, the ball's not bouncing our way. … We're getting better. We're making plays. We're moving the ball down the field. But we still have a lot to do.
"It's not about running the ball from a quarterback standpoint. It's about completing passes and everything and having the whole offense come together