BRIAN BILLICK'S NFL Power Rankings: Week 14Brian Billick is an acclaimed NFL game analyst for FOX Sports and a Super Bowl-winning coach.
Posted December 10, 2013 12:36 PM EST
The Seahawks were upended in San Fran and Denver put up 51 in a win, so naturally we'd have a shakeup in the rankings. Well, not so fast.
Watch Brian Billick explain his rankings further here.
December 9th, 2013
BuzzyBuzzard | Tell us what you think:
3 Comments
Tim Tebow is one of the most famous college football players in history. Whether it be his signature jump pass or his passion for the game, Tebow will always be synonymous with college football greatness.
The star quarterback won two BCS National Championships and a Heisman Trophy while playing for the Florida Gators and has been on multiple NFL teams.
Bleacher Report has created a mixtape in his honor, highlighting his collegiate career.
Watch and enjoy.
December 8th, 2013
BuzzyBuzzard | Tell us what you think:
8 Comments
December 7, 2013 8:11 pm EST by
Christian Nelson
Andrew Weber-USA TODAY Sports
It's almost been a full season since we've seen Tim Tebow in an NFL uniform on Sundays. The incredible heroics of the former Florida Gators quarterback have not even touched the league this year, and to many, it's a shame. It is no question that everyone misses "Tebow Time", and sure enough, he will be back in 2014.
All of this talk of Tebow joining a sports
network is preposterous, and the offer from the Italian American Football
team is just a slap in the face. How can this guy really be out of an NFL job for good? Exactly — he won't be for long.
To put it simply, Tebow is a cash
cow. He is someone you can put on your roster to immediately increase ticket sales
, not to mention "Tebow" jersey sales. Let's not forget that the top-selling jersey in the NFL was Tim Tebow's for almost over two years.
But beyond the business
aspect of Tebow, he is a true competitor and incredibly talented, regardless if he can throw a perfect spiral or not. He puts his blood, sweat and tears into each and every down on Sundays, something a lot of players
just don't do anymore whether they are worried about their health or an expiring contract.
Everyone wants a teammate like Tebow, as he is a professional by all senses of the word
, and can lift the spirits of any player on a roster and keep them chugging throughout even the worst of seasons. His on and off-field success cannot be forgotten, and to an NFL organization this offseason, that success will be enough of a reason to take the chance on the star. Look for a Tebow comeback in 2014.
December 7th, 2013
BuzzyBuzzard | Tell us what you think:
8 Comments
Dec 07, 2013 11:25 AM EST
Former Florida Gators quarterback Tim Tebow is rumored to be fielding offers for a possible television gig from ESPN, CBS Sports, and Fox Sports. (Photo : REUTERS/Jonathan Bachman)
A bidding war for free agent National Football League (NFL) quarterback Tim Tebow may be brewing for his services, though not for his skills under center.
ESPN, Fox Sports, and CBS Sports are all interested in signing Tebow to their college football broadcast teams, in hopes of attracting the the audience that has made him Bing's most popular athlete in 2013 on their search engine, finishing ahead of Olympic skier Lindsey Vonn, professional golfer Tiger Woods, and the Miami Heat's LeBron James.
ESPN is looking for Tebow to be one of the faces of their new SEC Network that is launching on August 21, 2014, as part of a show similar to ESPN's highly-popular College Gameday, with Tebow joining Rece Davis and Paul Finebaum during the pre-game and post-game shows.
CBS Sports also wants Tebow as a part of their weekly SEC on CBS game, which has been putting up high ratings, airing the top three rated college football games this season (University of Alabama vs Texas A&M University, Louisiana State University vs Alabama, and last week's Alabama vs Auburn University Iron Bowl game).
Fox is prepared to feature Tebow not only in their college football coverage but also their NFL telecasts, giving him more air time compared to CBS Sports and ESPN, using him to attract viewers to their new Fox Sports 1 network that launched this year. CBS Sports' and ESPN's offers may be more tailored to Tebow being that he has roots in SEC football, having won two BCS title, two SEC championships, and a Heisman Trophy with the University of Florida.
"If there is a bidding war for his services, then he would make more than your traditional ex-Heisman Trophy winner who is trying to get into the business," said Steve Rosner, a partner at 16W Marketing and represents announcers such as Phil Simms, Boomer Esiason, Cris Collinsworth, and Brian Griese, to Bloomberg BusinessWeek.com. "Coming out of the chute, I'd be extremely surprised if Tim Tebow would earn anywhere close to seven figures."
Tebow has been a free agent quarterback since being released by the New England Patriots at the end of the 2013 preseason, after getting previous cut by the New York Jets, who traded for him in 2012. Tebow was not offered a deal by any NFL teams after he was released by New England and rejected a $1 million offer from the Russian football team Moscow Patriots, who play in the American Football Championship of Russia, as well as an offer from the expansion arena football team LA KISS, co-owned by Gene Simmons.
Tebow was recently offered a short-term, $200,000 four-month contract by Milano Seaman of the Italian Federation for American Football. Tebow is likely to turn that offer down, as he waits for his agent Jimmy Sexton, to finish negotiating contracts for his college coaches clients during this time period, before focusing on the former Heisman winner's new television venture.
December 7th, 2013
BuzzyBuzzard | Tell us what you think:
2 Comments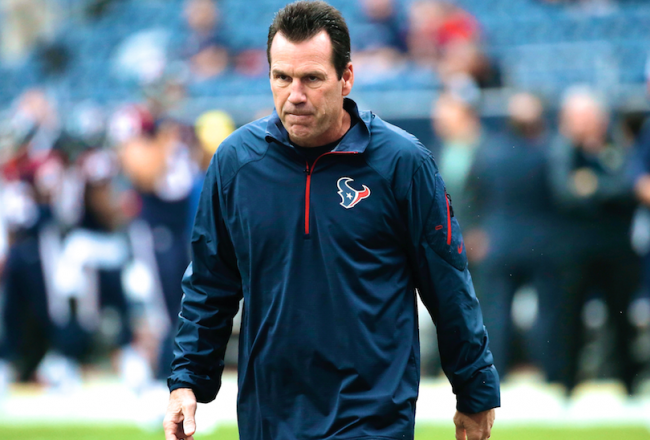 Getty Images
The Houston Texans have endured a drastic 11-game losing streak since winning their first two games of the season, and head coach Gary Kubiak has been fired as a result. 
His departure comes a little over a month after he collapsed on the field at halftime of a Sunday Night Football game vs. the Colts due to what was later deemed a mini-stroke.  Kubiak missed just one game and returned to the team coaching from the booth for two games.  He had since returned to coaching on the sidelines.
NFL insider Jay Glazer broke the news on Friday:
Texans insider Deepi Sidhu added this:
USA Today's Tom Pelissero added more on Phillips:
Kubiak finished his tenure in Houston, which began in 2006, on a sour note and with a 61-64 record, per Pro-Football-Reference.com.
Even when Kubiak failed to reach the postseason in his first five years on the job, the Texans organization stuck with him. It paid dividends the next two years, as the franchise won back-to-back AFC South division titles.
Unfortunately, everything got away from Kubiak and the Texans this year. The coach even went as far to say that he needs to "start from scratch" after a 38-13 home loss to the St. Louis Rams in Week 6:
That is what the Texans are doing now—without Kubiak in the fold to oversee the operation.
The Rams game was Houston's fourth loss in a row, which B/R's Matt Miller suggested added heat to Kubiak's seat:
The losing streak snowballed into a horrific 11-game skid on Thursday, as the Texans lost to Chad Henne and the Jacksonville Jaguars. NFL on ESPN put their struggles into perspective:
Part of the team's downward spiral has to be pinned on the inconsistency of the game's most important position, quarterback. Case Keenum showed promise in Weeks 9 and 10, throwing for a combined 551 yards and six touchdowns; however, he had just two touchdown passes in the following four games and threw an interception in each of those four.
While Matt Schaub has also shown sparks this season, and did so against Jacksonville when he entered the game, he's clearly not the quarterback of the future. Schaub and Keenum may be pulling the trigger on their passes, but Kubiak shares some of the blame when the offense continues to sputter.
Perhaps the league got up to speed with Kubiak's tactics, making it difficult for the Texans to have consistency on offense.
The former coach released a statement regarding his dismissal, courtesy of Houston's CBS affiliate:
 I want to thank Bob McNair and his family for giving me my first head coaching opportunity in the National Football League. Bob has treated me with the utmost class and respect throughout my career with the Texans. I am appreciative of him for bringing me back to Houston to coach my hometown team.

I want thank the players and coaches for all the work they have put in during my years with the Texans. Though we came up short this season, the work, effort and sacrifice they gave me and this organization over the last eight seasons is not to be taken for granted. I want to wish them all the best.

I want to thank the people in the organization for their support over all the years. We could not have achieved our goals without their tireless work and commitment to our team.

Lastly, my family and I want to thank the city of Houston for their support of the football team and our family. We had a great run here and we will never forget our back-to-back AFC South Championships. Coming back home was a dream come true for all of us. This will always be our home. Thank you."
Regardless of how the remainder of the current campaign plays out, though, general manager Rick Smith should take a hard look at the class of quarterbacks eligible for the 2014 draft.
With a talent-laden roster headlined by superstars Andre Johnson, Arian Foster and J.J. Watt, the Texans are in a position to have a rapid turnaround under new leadership next season. Like the 2012 Chiefs, the Texans have quarterback and head coach problems that if fixed can make them contenders in the very near future.
December 6th, 2013
BuzzyBuzzard | Tell us what you think:
One Comment
December 5th, 2013
BuzzyBuzzard | Tell us what you think:
2 Comments
Tim Tebow has been a free agent since getting released by the New England Patriots earlier this year. (Jared Wickerham / Getty Images)
By Dan LoumenaDecember 5, 2013, 11:38 a.m.
Tim Tebow
's dream of playing quarterback for a professional football team might be over in America, or at least the
NFL
, but Italian league team Milano has offered him a four-month contract.
Milano team President Marco Mutti told the Associated Press that the offer has been sent to Tebow's agent and the club is awaiting an answer.
"We would be more than happy to have him," Mutti said.
The Milano Seamen lost last season's championship game to the Parma Panthers, 51-28. The new season begins in March.
Tebow, the 2007 Heisman Trophy winner and two-time BCS champion, last played for the New England Patriots, who cut the former Florida star before the regular season began.
A spokesman for the Italian league told the Associated Press that the contract was worth about $200,000.
December 5th, 2013
BuzzyBuzzard | Tell us what you think:
No Comment
Welcome back, my psyhic friends, to Rant Fiction. Today we are going to talk about what would happen if the Cleveland Browns got desperate enough to sign Tim Tebow.
December 4th, 2013
BuzzyBuzzard | Tell us what you think:
12 Comments
 
By Chase Goodbread
College Football 24/7 writer
Published: Dec. 3, 2013 at 06:11 p.m.
Updated: Dec. 3, 2013 at 08:38 p.m.
AP Photo/ Jack Dempsey
Tim Tebow is being courted by several television networks for next college football season.
No fewer than three TV networks are interested in hiring former Denver Broncos and New York Jets quarterback Tim Tebow to be part of their college football TV coverage next fall, according to thebiglead.com.
ESPN's new SEC Network, scheduled for launch next year, CBS Sports and Fox Sports are the apparent suitors.
<CONTENT_STATIC src="/widgets/custom/packages/CFB247_HotTopics.html">
The natural fit?
Of course, the SEC Network, which would place the former Florida Gators megastar in the comfort zone of his own former conference. According to the report, ESPN has even done some groundwork regarding his potential future role. While the NFL audience may be ready to say goodbye to the Tebow career narrative, the college audience would no doubt be more likely to re-embrace one of the game's most memorable and prolific athletes.
To be sure, there are more than a few college fans who feel they've faced enough Tebow exposure to last a lifetime. But to the networks, that may just mean adding to the ratings with haters.
As for Tebow's potential in the role, he has a lot of the necessary attributes built-in: name recognition, charisma, football experience, and all the comfort in his own skin that a network exec could ask for. But it's also fair to wonder this: Could he deliver a candid opinion on a failed coach, program or player when the job calls for the brutal variety of honesty? In almost any role, part of Tebow's job would be to criticize when warranted — this from a guy who has never been known to be critical of anyone or anything, at least not on a public platform.
For Tebow, that would be the toughest challenge.
December 3rd, 2013
BuzzyBuzzard | Tell us what you think:
No Comment
BRIAN BILLICK'S NFL Power Rankings: Week 13Brian Billick is an acclaimed NFL game analyst for FOX Sports and a Super Bowl-winning coach.
Here on TebowZone you can watch many interesting sports matches. This week you can watch free
Bayern München Real Madrid live stream
as well as
Barcelona Real Madrid live stream
. We will also provide free streaming links for
London 2012 live streaming
and
PSV Eindhoven AZ Alkmaar live stream
. This streams are completely free so you can share them with your friends. Every week when Champions League is playing you can watch
Champions League 2012 stream
with our sponsored streaming.